The tundra is a ripe spot for terror. And, an underutilized one at that. Boasting an expansive, underdeveloped landscape, isolation, and weather patterns that are uninhabitable for most, few souls have braved the arctic horror film landscape and lived to tell the tale. I'm looking at you, Josh Hartnett in 30 Days of Night.
For the girls of Pang in Slash/Back, however, the chilly terrain is home. Nestled among an indigenous fishing community in Nunavut, Canada – the girls spend their days racing around on their bicycles and hanging out amidst the arctic backdrop doing what girls do; talking about boys and John Carpenter's The Thing.
"The tundra is a ripe spot for terror."
It's the Summer Solstice, which means 24 straight hours of sunlight. The parents are off to celebrate at a town dance, leaving the kids to their own devices. What they think will be a night partying with the cool boy in town ends up far more sinister after an infectious alien species descends upon their neighborhood.
Slash/Back's greatest strengths are in its characters. The ease of which actresses Tasiana Shirley, Alexis Wolfe, Chelsea Prusky, Frankie Vincent-Wolfe and Nalajoss Ellsworth interact is natural and real. They evoke a day in the life of a teenage Inuk girl, a perspective rarely explored in cinema. But the Stand By Me aspects of Slash/Back quickly evaporate when the girls' average day turns into anything but.
ENJOYING THIS POST?
Nightmare on Film Street is an independent outlet. All of our articles are FREE to read and enjoy, without limits. If you're enjoying this article, consider joining our fiend club for only a couple-a bucks a month!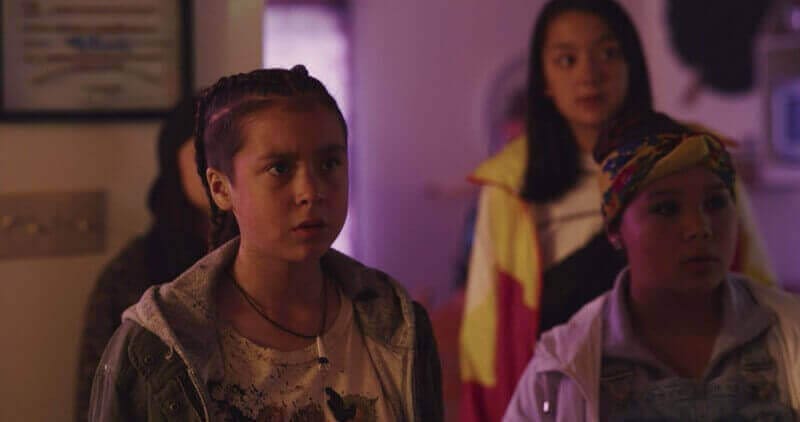 The monster, an invasive alien species that can inhabit the body of anything that dares get too close, is terrifying. It boldly appears in broad (endless) daylight, and is relentless in its pursuit. When we first catch a glimpse, the alien species has inhabited a polar bear; an animal scary to cross at optimal health. But when that polar bear is bounding towards you on twisted ankles and with haunted eyes – that's next level.
To thwart the body-swapping beast, the girls must be inventive. They have to put aside their teenage squabbles and go to battle. Utilizing their smarts, their cunning, and their hunting know-how, they show just how tough girls can be.
" ..a novel science-fiction creature feature.. "
As refreshing as Slash/Back's focus on novel characters, the film doesn't fully descend into a Mad Maxian fight for survival. It's an indie picture, so I don't expect a bunch of tweens to have expert fighting skills, but after the reveal of such an intensely intimidating foe, it's hard to maintain momentum with characters who are very predictably protected by plot armor. There is no real inherent risk to them, in one instance, they're able to hide in a storage canister with a very flimsy door for what feels like the majority of the evening. Which seems unpenetrable for a beastie that's quite capable of taking down fully armed adults in seconds flat.
Slash/Back isn't without intensity, though. The soundtrack slaps as the girls dawn warpaint and race in and out of danger. Not only is the music is hi-octane, injecting energy into strategic moments. but it also further spotlights indigenous voices and talents. Any movie that blasts The Halluci Nation (formerly A Tribe Called Red) is a-ok by me.
Overall, Slash/Back is a novel science-fiction creature feature that uses fresh prospectives, chilly scenery, and a beastie worthy of the endless sunlight. Or, spotlight, rather.
" ..a novel science-fiction creature feature.. "
Slash/Back is directed by Nyla Innuksuk, from a screenplay by Innuksuk and Ryan Cavan, and celebrated its world premiere at SXSW 2022 in the Narrative Feature Competition. Check out more of our coverage of the 2022 SXSW film festival here. Let us know if you're excited to checkout Slash/Back over on Twitter or in the Nightmare on Film Street Discord!