Eviction parties are fun. You can invite as many people as you want to come trash the place one last time. What's the worst that can happen? The landlord can't evict you twice (though maybe you'll have to pay for damages). A final going-away party is the jumping-off point for Japanese cult director Masahi Yamamoto's absurdist comedy Wonderful Paradise, though it quickly explodes into a brightly-colored fever dream.
The Sasaya family is deep in debt and forced to move out of their luxurious mansion in a Tokyo suburb. Divorced father Shuji (Seikô Itô) is packing up the last of their belongings, while his daughter Akane (Mayu Ozawa) carelessly makes a post a Twitter announcing one last party at the house and anyone is welcome. Complete strangers start showing up at the house, looking to party for various reasons. A gay couple wanting to have a cheap wedding, Taiwanese tourists looking to explore Tokyo, and horny teens looking to score. An old homeless monk who keeps praying to the marble statue in front of the house is knocked on the head by one of the movers and is brought inside until he comes to. The movers get distracted and start drinking, completely neglecting their responsibilities. Drug dealers produce opium in the garden shed.
"Wonderful Paradise is like taking a hallucinogenic drug that keeps getting more intense with every passing minute…"
Akane is accomodating of everyone. Well, except when Shuji's ex-wife Akiko (Kaho Minami) shows up. Akane dismisses her outright, mostly because she blames her for breaking up their family and putting her father into debt. The scene in the backyard goes from a large gathering to a festival to a full-scale carnival with choreographed group dance numbers. Merchants set up kiosks, at first just selling beer and food to the guests, but their enterprises are then expanded into coffee bars for the socially introverted. What used to be private property is now a communal space. Couples hook up in every room of the house. People collapse and die, only to be resurrected soon after. Guests are soaked in fountains of blood. And a monstrous coffee bean comes to life and wreaks havoc on the party.
ENJOYING THIS POST?
Nightmare on Film Street is an independent outlet. All of our articles are FREE to read and enjoy, without limits. If you're enjoying this article, consider joining our fiend club for only a couple-a bucks a month!

Wonderful Paradise plays on the uninvited guest trope. It's like in Darren Aronofsky's Mother! without any of the anxiety. The party keeps escalating and all logic goes out the window. Every new development is accepted without question by every character. Shuji seems to be the only person to wonder "what are all these people doing in my house?" He tries his best to control the situation, telling the movers to get back to work. But eventually, he gives up and buys into a high-stakes game played by mobsters in his living room.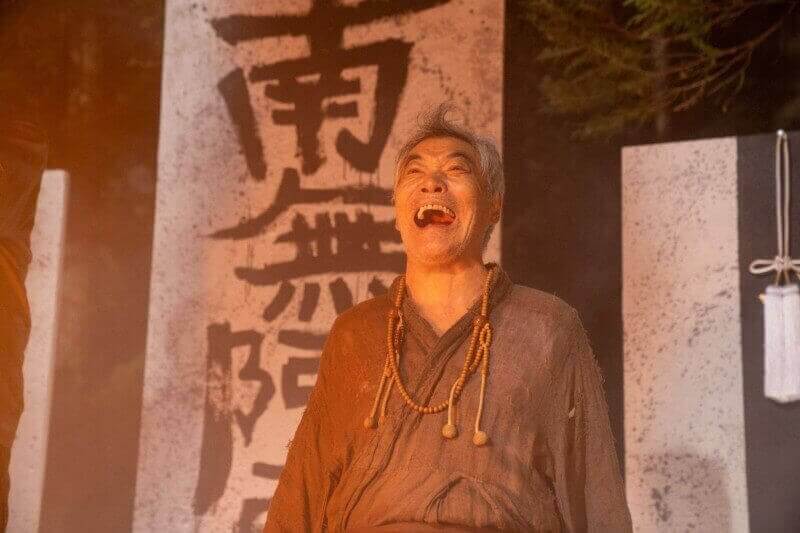 There are so many subplots happening at once and so many characters being introduced, it's hard to keep track. At some point, I stopped trying to make sense of everything and gave into the chaos that is the second half. If there was supposed to be some sort of symbolic significance, it went right over my head. My favorite subplot out of the dozens that were thrown at me has to be the vicious love triangle between the newlyweds and a jealous ex-lover who was abandoned at the wedding pulpit. Their story is dramatic at every turn and hits a low point where survival seems uncertain for the lovers, but it wraps up in the most ridiculous yet delightful way. I'll attend any wedding with a blood geyser.
As someone who hasn't seen any of Masahi Yamamoto's other films, I don't know if the absurdity is par for the course. But from what I understand, Yamamoto has been taking a punk rock approach to filmmaking for more than 40 years, and he is known to go off into the unexpected. Still, experiencing this kind of cinema for the first time does a number on the head. Wonderful Paradise is like taking a hallucinogenic drug that keeps getting more intense with every passing minute and wondering if you'll ever return to normality again. Perhaps if you consume large amounts of anime, it will make a bit more sense to you.
"…a brightly-colored fever dream […] Wonderful Paradise is a buffet for the eyes"
Nonsensical storylines aside, Wonderful Paradise is a buffet for the eyes, especially when it goes full Bollywood and goes overboard with color. The actors are completely committed to their roles, even when they're tasked with doing the most outlandish things, they still play it off casually. Despite the blood-soaked wedding and an epic small-scale kaiju fight at the end, the violence is almost cartoonish and not in the least bit disturbing. Some might love Wonderful Paradise, some might hate it. There are many valid reasons to go either way, depending on what you're looking for. But if you're just looking to party, I know a place where everyone is invited to join in on the fun.
Masahi Yamamoto's absurdist comedy Wonderful Paradise celebrated its North American Premiere at the 2021 Fantasia International Film Festival. Click HERE to follow all of our Fantasia coverage, and be sure to let us know all about the crazy parties you've attended over on Twitter, in the official Nightmare on Film Street Subreddit, and on Facebook in the Horror Movie Fiend Club! Not a social media fan? Get more horror delivered straight to your inbox by joining the Neighbourhood Watch Newsletter.