Get ready to howl at the moon, cackle with witches, and dive headfirst into a cauldron of frights! It's time for Nightmare on Film Street's #31DayHorrorChallenge, the ultimate Halloween Horror Movie Challenge that's guaranteed to fill your October with spooks, chills, and thrills.
Horror movies and Halloween? They're a match made in the haunted house. Like witches and broomsticks. Like vampires and fangs. Like Freddy and Jason. Like zombies and, well, more zombies.
Year after year, we here at Nightmare on Film Street bring our horror family together across social media to embark on a 31-day journey into the macabre, all in the name of celebrating the most haunted time of the year!
Table of Contents
Enter the #31DayHorrorChallenge 2023!
Ready to sink your teeth into this year's Halloween Horror Movie Challenge? We're calling all you horror aficionados, casual fans, and even the faint of heart to join us each day this October with a different horror movie, each one selected by you, based on our frightful daily themes!
Participation is a scream! Simply choose a horror film that matches each day's prompt, then share your selections, spooky setup, and eerie insights on social media using the hashtag #31DayHorrorChallenge.
Engage with fellow horror enthusiasts, participate in our ghoulish giveaway, and download our official challenge guide to track your terror-filled journey. Whether a horror novice or a seasoned scare-seeker, follow us on social media and immerse yourself in a Halloween celebration that promises chills, thrills, and plenty of creepy fun. Join us—if you dare!
Official #31DayHorrorChallenge Graphics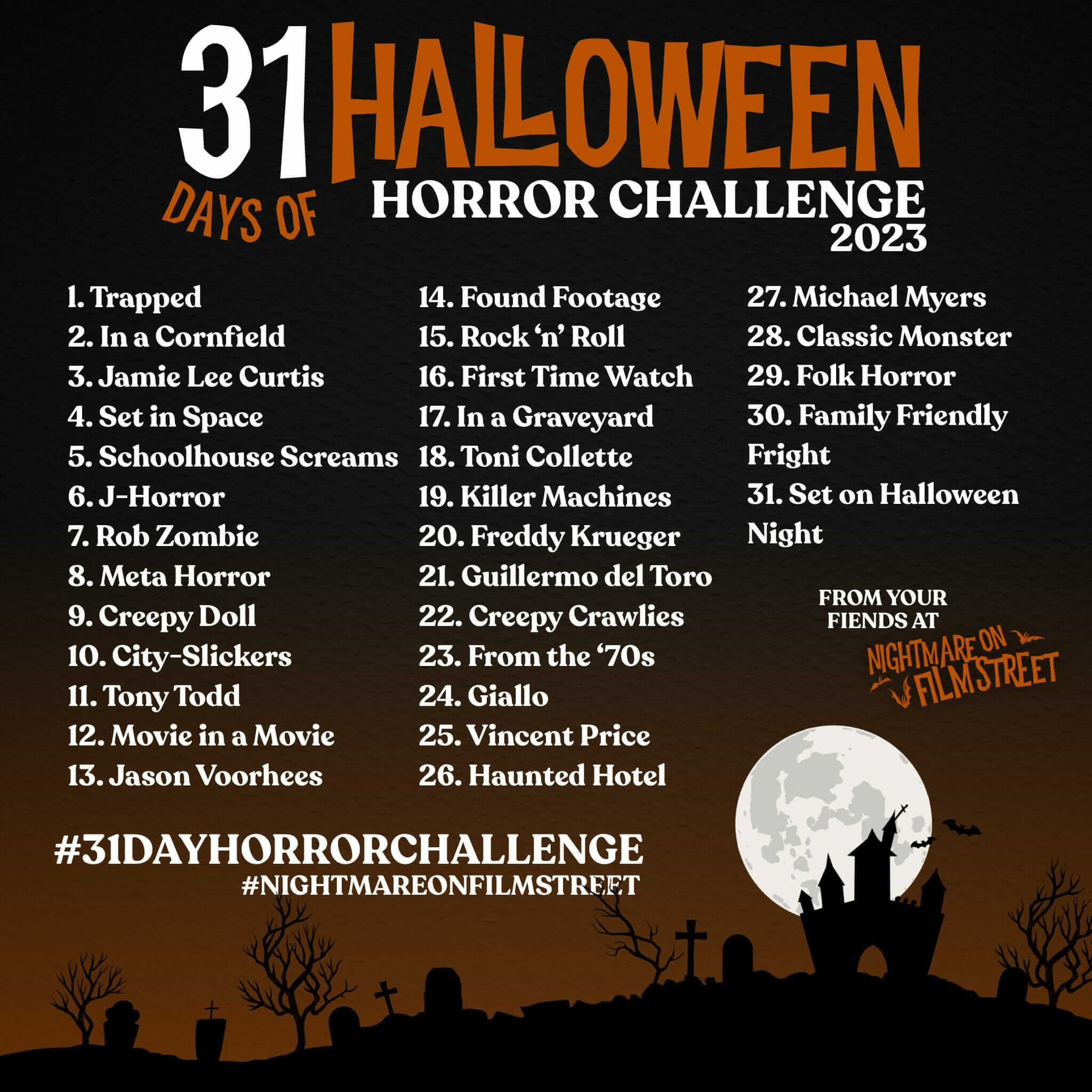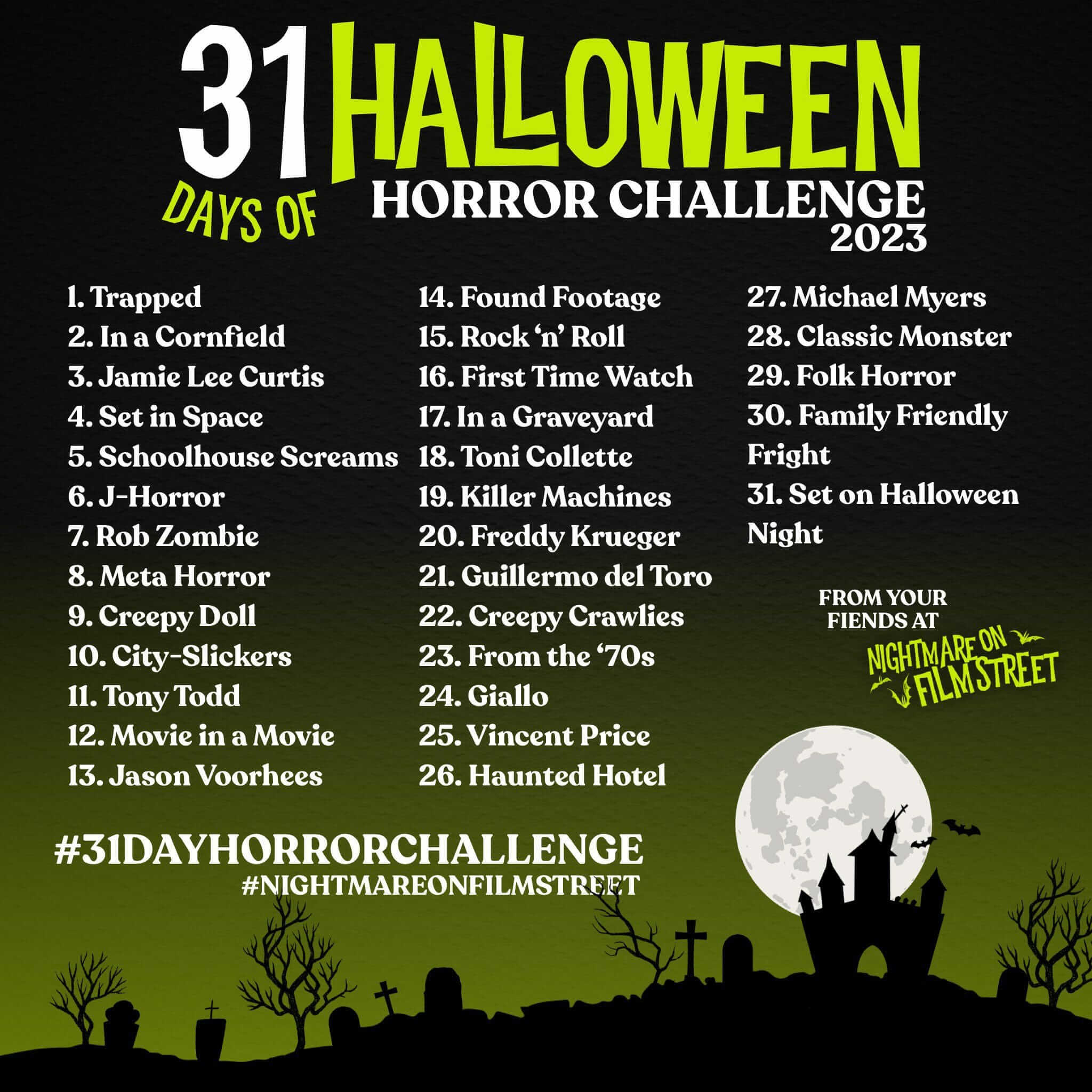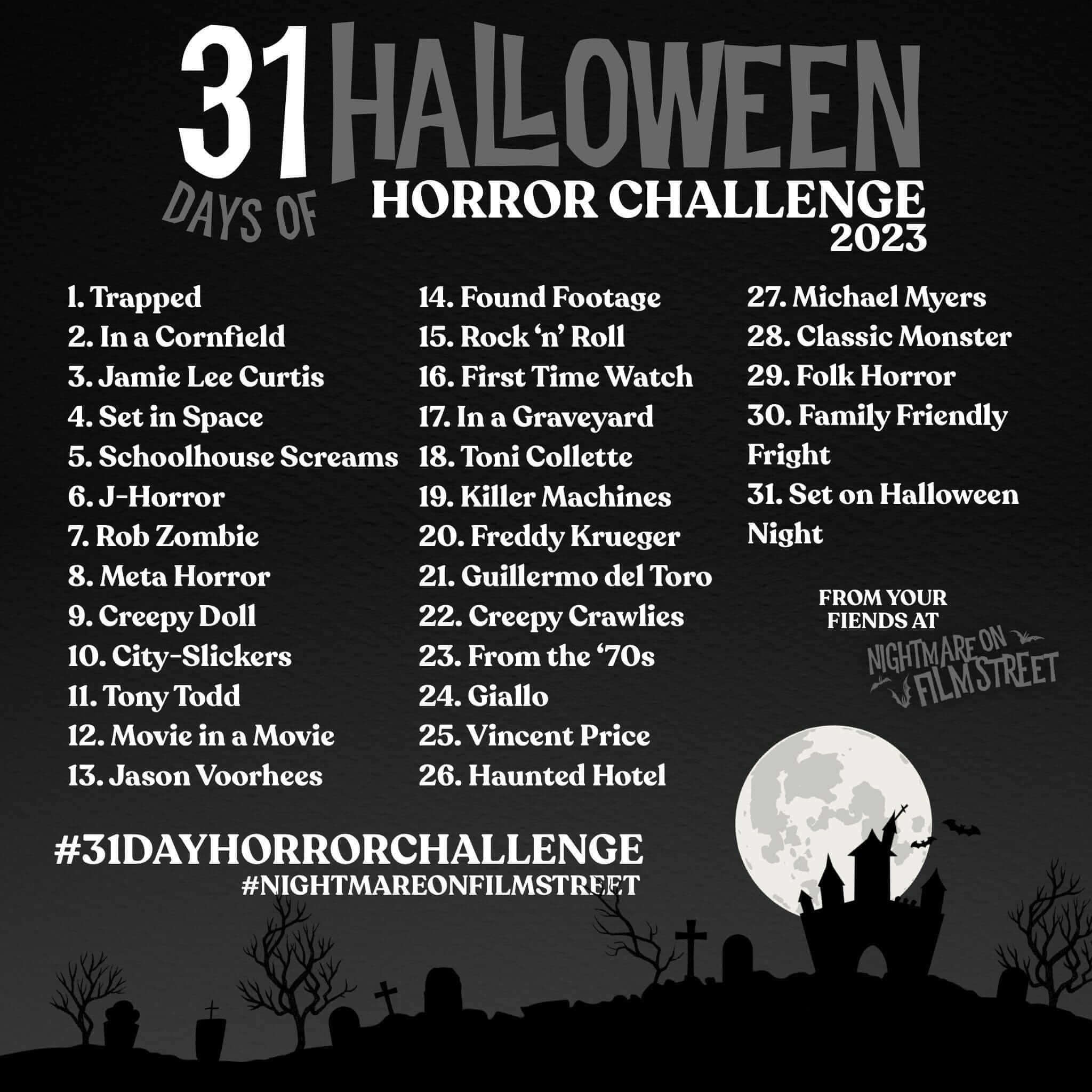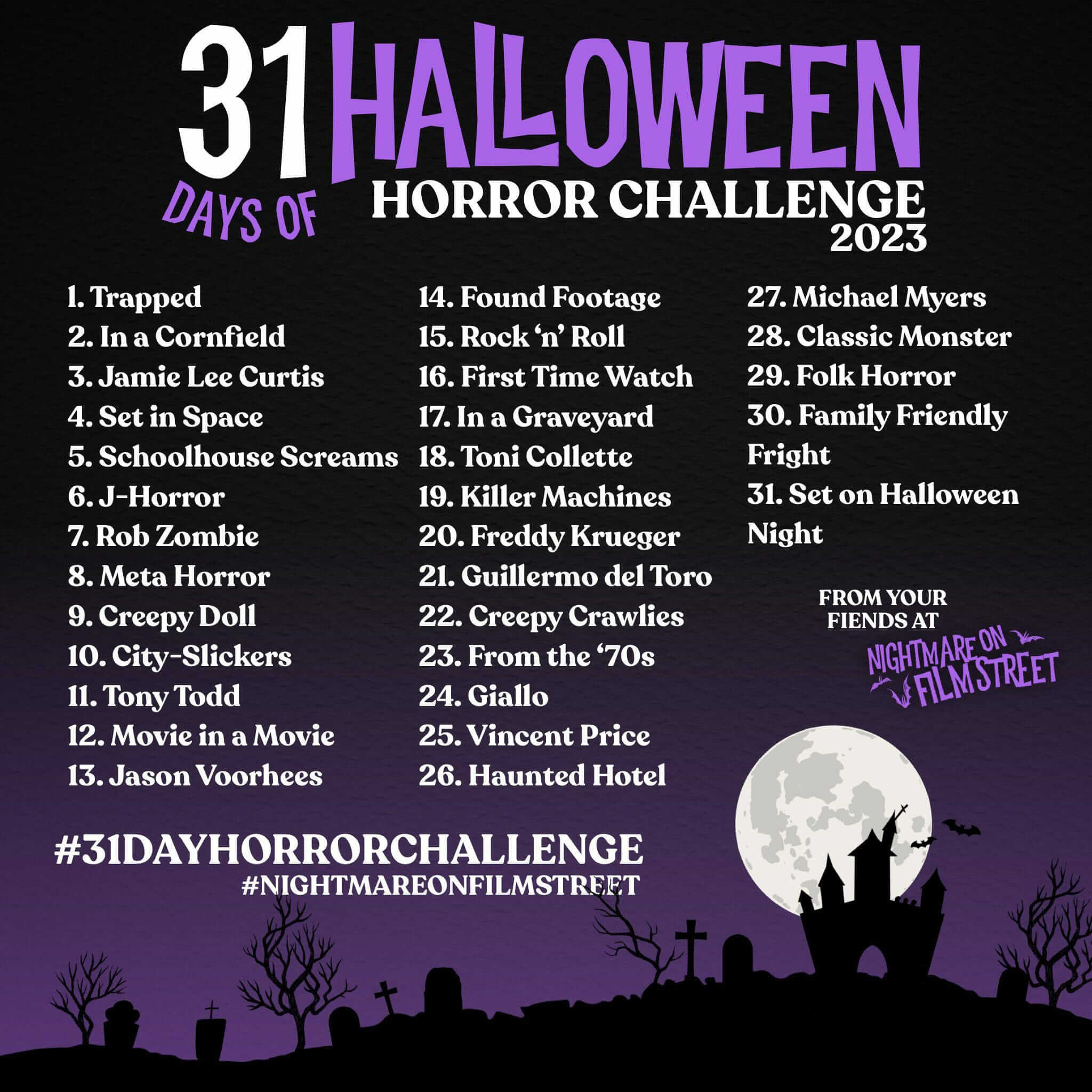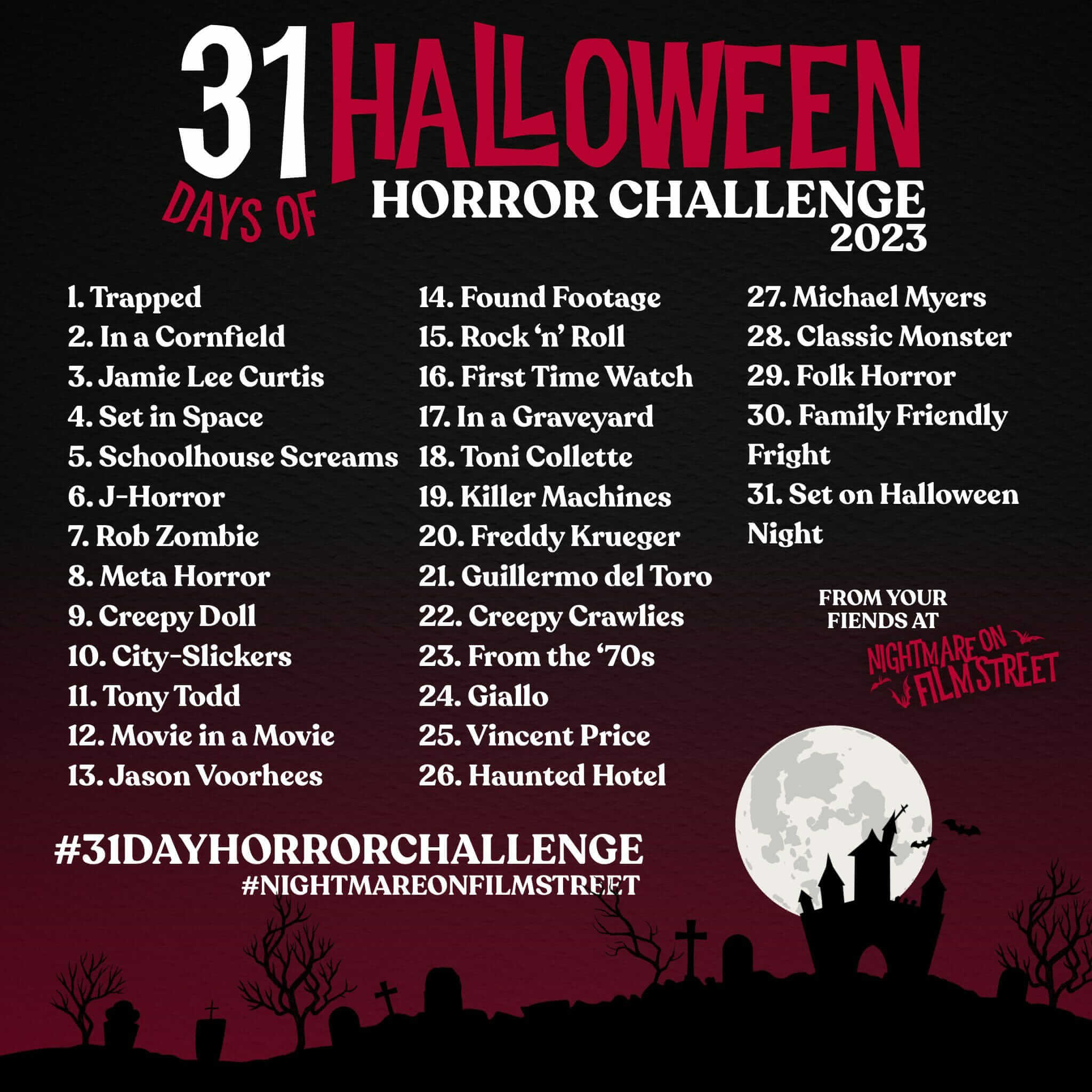 Here's a taste of this year's prompts:
Trapped: Choose a film where characters find themselves entrapped, perhaps in a haunted house or an isolated island. The tighter the space, the better. [Our Trapped Recommendations]
In a Cornfield: Opt for films where much of the sinister action unfolds amidst rows of corn, where something lurks just out of sight. [Our Harvesty Cornfield Horror Movie Picks]
Jamie Lee Curtis: Celebrate the scream queen by watching any of her iconic roles. Think Halloween or Prom Night. [See Our Ranking of Every Jamie Lee Curtis Horror Film]
Set in Space: Not all horror is Earth-bound. Dive into terrifying realms beyond our planet. [Some Space Horrors to Check out!]
Schoolhouse Screams: A horror that unfolds within the walls of an educational institution. High Schools, Private Schools, Universities… [Here's some Prom Horrors] [And here's some Back-to-School Horror Movies]
J-Horror: Experience the unique chill of Japanese horror. Films like Ringu or Ju-on might be your picks. [See our J-Horror Recommendations]
Rob Zombie: Watch a movie either directed by this horror maestro or infused with his killer music. House of 1000 Corpses anyone? [Here' our Ranking of EVERY Rob Zombie Film]
Meta Horror: Horror that's self-aware, commenting on its own genre while scaring the pants off you. [Here are 10 Meta-Horror Faves]
Creepy Doll: Films where toys take on a life of their own. Annabelle or Chucky could be prime choices. [Here are our Creepy Doll Picks!]
City-Slickers: Urban-based horror showcasing the darkness within city limits. Skyscrapers might hide more than offices. [Our Downtown Horror Movie Recommendations]
Tony Todd: Dive into films that showcase this actor's chilling performances. A trip to the Candyman universe, perhaps?
Movie in a Movie: It's horror inception; films within films offering layers of terror. Choices include Stab in the Scream franchise, Mant! in Matinee, or whatever movie it is the Blob interrupts in The Blob!
Jason Voorhees: Time for a trip to Camp Crystal Lake. I hope you can swim.
Found Footage: Documentary-style films where the horror feels just a bit too real. Think Blair Witch Project or Paranormal Activity. [Our Found Footage Recommendations ]
Rock 'n' Roll: Find horror films that meld with the world of rock or heavy metal. Whether it's haunted guitars or rockstar zombies. Our [Rock n' Roll and Heavy Metal Horror Recommendations]
First-Time Watch: Choose a horror you've yet to see. New releases or classic you missed, the choice is yours.
In a Graveyard: Films where graveyards aren't just the backdrop, but the main stage. Try to pick a flick with an extended sequence set in a Graveyard.
Toni Collette: Celebrate this actress's masterful performances in the horror genre. Hereditary might be a great start.
Killer Machines: Choose tales where technology turns sinister. From rogue AIs to bloodthirsty cars.
Freddy Krueger: Visit Elm Street, but whatever you do, don't fall asleep.
Guillermo del Toro: Celebrate the works of this mastermind. Whether it's the fairy-tale horror of Pan's Labyrinth or the ghostly Crimson Peak.
Creepy Crawlies: Horror films featuring the smaller threats in life. Bugs, critters, or anything that slithers and crawls.
From the '70s: Step back in time with classics from this golden era of horror.
Giallo: Delve into the colorful and stylized world of Italian horror-thrillers. Sharp knives and sharper twists. [Our Giallo and Italian Horror Recommendations]
Vincent Price: Celebrate the legacy of this iconic actor. His chilling monologues will leave you entranced. [Our Best of Vincent Price Horror Recommendations]
Haunted Hotel: Films where the horrors happen room by room, corridor by corridor. From ballroom ghosts to homicidal caretakers.
Michael Myers: The iconic masked killer from Haddonfield awaits. Choose any of the legendary Halloween series.
Classic Monster: Celebrate the originals – Dracula, Frankenstein, The Mummy, and their ilk.
Folk Horror: Films rooted in ancient customs and pagan horrors. Rituals, dances, and horrors ancient and wild. [Our Essential Folk Horror Movies Recommendations]
Family Friendly Fright: Horror that's light on scares but big on fun. Perfect for a family movie night.
Set on Halloween Night: Finish off with a film that celebrates the spookiest night of the year, ensuring your October ends on a haunting note.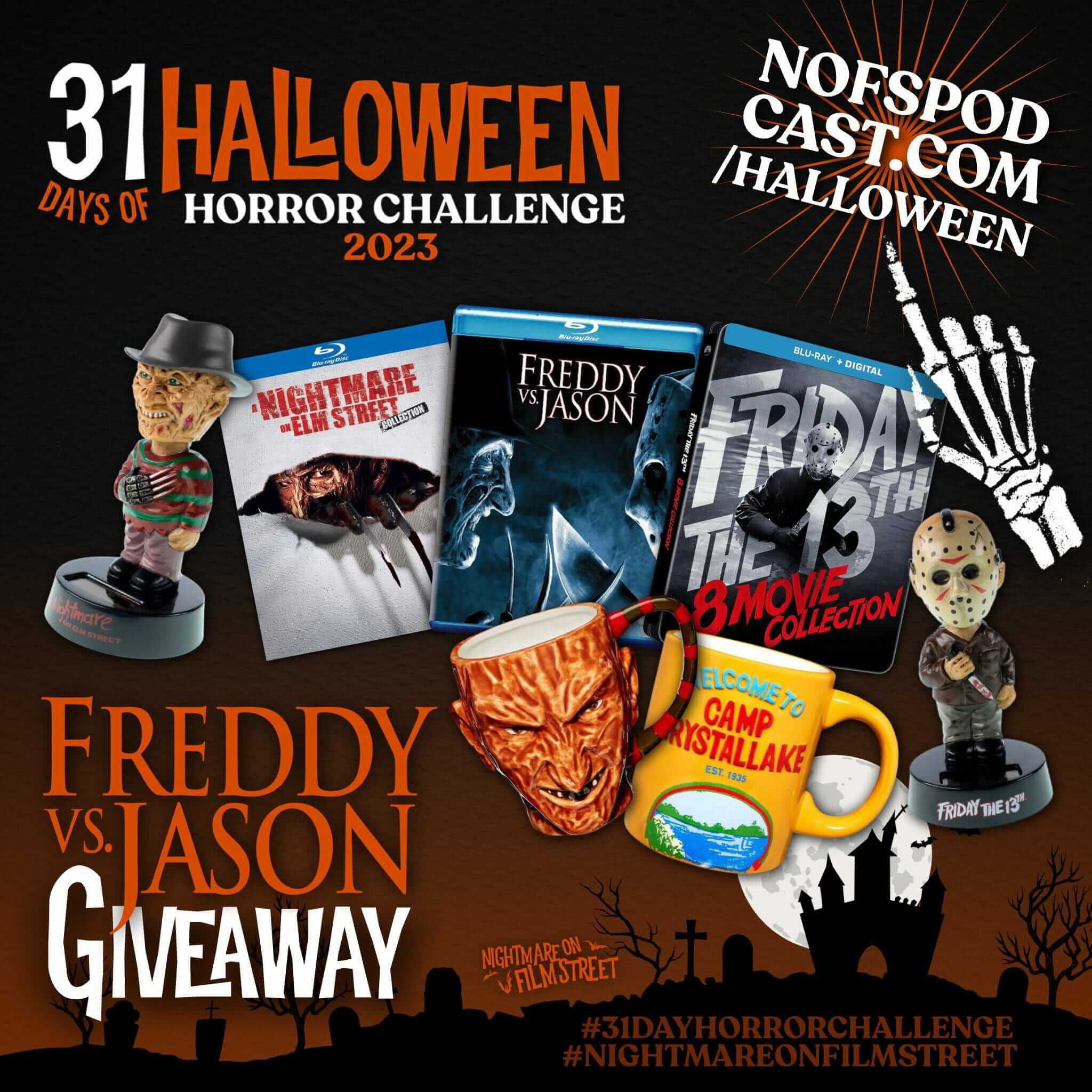 Win the Ultimate Freddy vs. Jason Bundle!
Ready for a monstrous treat? Participate in the #31DayHorrorChallenge and stand a chance to win the ultimate Freddy vs. Jason prize bundle, including both movie collections on Blu-ray, solar-powered bobbleheads, molded coffee mugs, and much more.
That's not all – the more you enter the giveaway – the more you could win! We'll be adding even more prizes as the giveaway grows, so be sure to rack up those entries and share the giveaway!
#31DayHorrorChallenge 2023 Giveaway!
#31DayHorrorChallenge Worksheets
How to Participate?
Get ready to embark on a thrilling journey through the darkest corners of horror cinema! But before you dive into the nightmare, here's your step-by-step guide to join the spook-tacular fun:
Choose Your Frights: Browse the prompts above and pick a horror film that fits each day's theme. Need inspiration? We're here for you on social media with suggestions, and we'll be updating this space with recommendations as October nears!
Prepare Your Horror Haven: Set up your horror-watching nook. Comfy chair? Check. Snacks? Check. Favorite ghoul-themed blanket? Double-check! We want to see your spookiest snacks and setups!
Follow & Share: Be sure to follow us at @nightmareonfilmstreet on Instagram or @nofspodcast on Twitter. Share your daily picks using the hashtag #31DayHorrorChallenge. Your movie choices, spooky setups, and snack pairings might inspire others!
Engage with Fellow Horror Fiends: Respond to other participants' posts, share your thoughts on their picks, or offer your own suggestions. This is a community event, so be sure to trick or treat through the NOFS neighbourhood!
Join the Giveaway: Participate in our Freddy vs. Jason bundle giveaway! Enter by following the instructions provided above, and unlock more chances to win by engaging daily.
Download & Display: Click on the provided marathon images to view them in full size, then right-click to save. Share, print, or even use it as your wallpaper. Let everyone know you're part of the #31DayHorrorChallenge.
Stay Connected: Join us on Twitter, Instagram, the NOFS Discord, our Facebook Group, and wherever else you get your social media on. We'll keep the thrills and chills coming all October long.
Celebrate & Have Fun: Above all, the #31DayHorrorChallenge is about celebrating the joy of horror with fellow fans. So turn down the lights, turn up the volume, and enjoy a month filled with all things horror and Halloween!
So gather your snacks, prepare your spooky setup, and get ready to embark on an unforgettable journey of horror this October. Share what you're watching and your suggestions using the hashtag #31DayHorrorChallenge across all social platforms.
From all your Fiends at Nightmare on Film Street, we wish you a spine-chilling, bone-rattling, hair-raising Happy Halloween! Let's make it a haunting one. 🎃👻