Happy Halloween morning, fiends! Since Halloween falls on a Saturday this year, it only seems right that we celebrate with a Saturday Morning Scares Halloween Special!!! Instead of focusing on a single cartoon, I've put together a programming block to take you from the early hours of the morning when weird old cartoons show all the way to noon, when Ernest Scared Stupid is almost definitely gonna play.
You can recreate this playlist for yourself if you have access to Netflix, Hulu, YouTube, and the Boomerang streaming service. Now go ahead and pour a bowl of cereal, settle in in front of the TV, and I'll catch you on the other side of morning!
5:30 Groovie Goolies– "Monster Trio" (S1E05) This show is like 70% musical numbers, which makes it an ideal "still stumbling around setting up the coffee pot" cartoon. Sing along with Frightening Frank, Dangerous Drac, and Weirdo Wolfie!
6:00 13 Ghosts of Scooby-Doo– "That's Monstertainment" (S1E05) This is the Scooby-Doo series with Vincent Price! In this adventure, Mystery, Inc. gets trapped in a movie called The Son of the Bride of the Ghost of Frankenstein, 'nuff said.
6:30 What's New, Scooby-Doo?– "A Scooby-Doo Halloween" (S2E06) This is the Scooby-Doo series with Simple Plan! Mystery, Inc. heads to Velma's family, but creepy scarecrows want to make sure no one has a happy Halloween!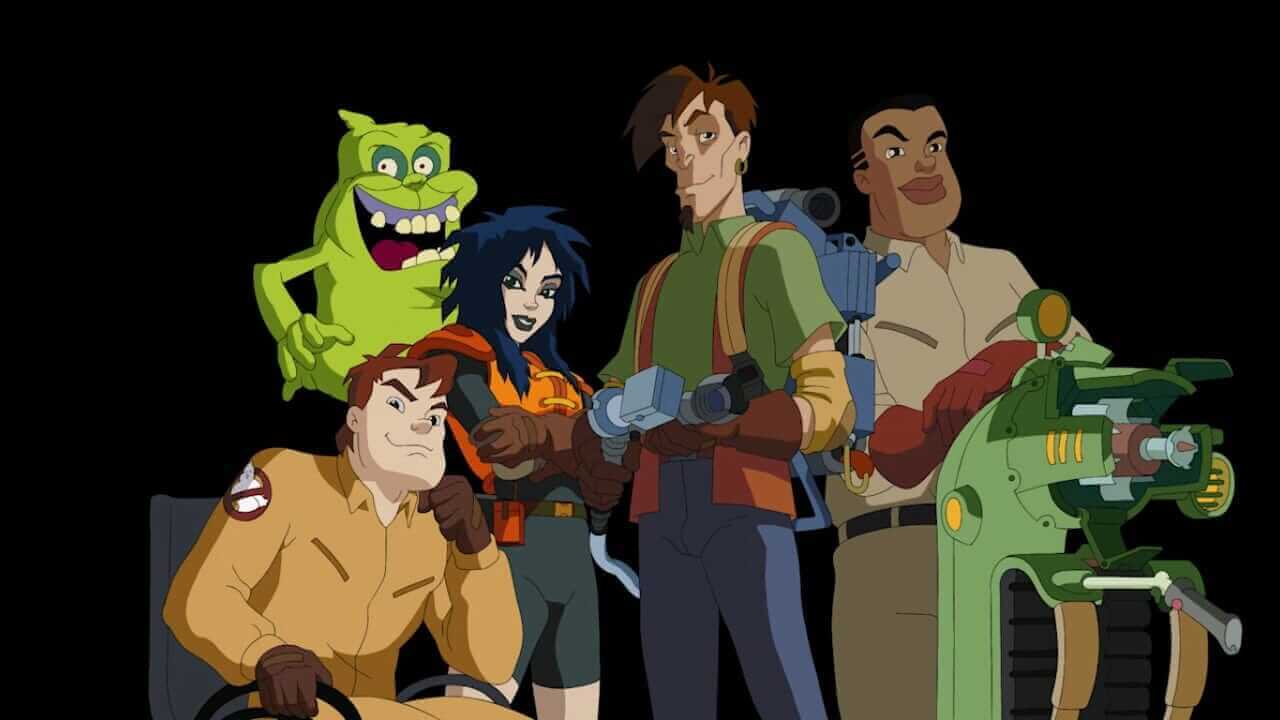 7:00 The Real Ghostbusters– "When Halloween Was Forever" (S1E08) Ancient entity Samhain unleashes all sorts of ghouls and goblins on Earth to make it always Halloween, when he's most powerful. Can the Ghostbusters stop him, and why would they?
7:30 Extreme Ghostbusters– "Deadliners" (S1E05) A horror writer's stories are coming to life! Also, he's gonna get a cease-and-desist because his creations are straight up just Cenobites.
Ads are Scary
Nightmare on Film Street is independently owned and operated. We rely on your donations to cover our operating expenses and to compensate our team of 30+ Contributors.
If you enjoy Nightmare on Film Street, consider Buying us a coffee!
8:00 Tales from the Cryptkeeper– "Hyde and Go Shriek" (S1E08) Many episodes of Tales from the Cryptkeeper had a lesson. The lesson of this episode is, "if you're getting bullied, turn yourself into a freakin' werewolf."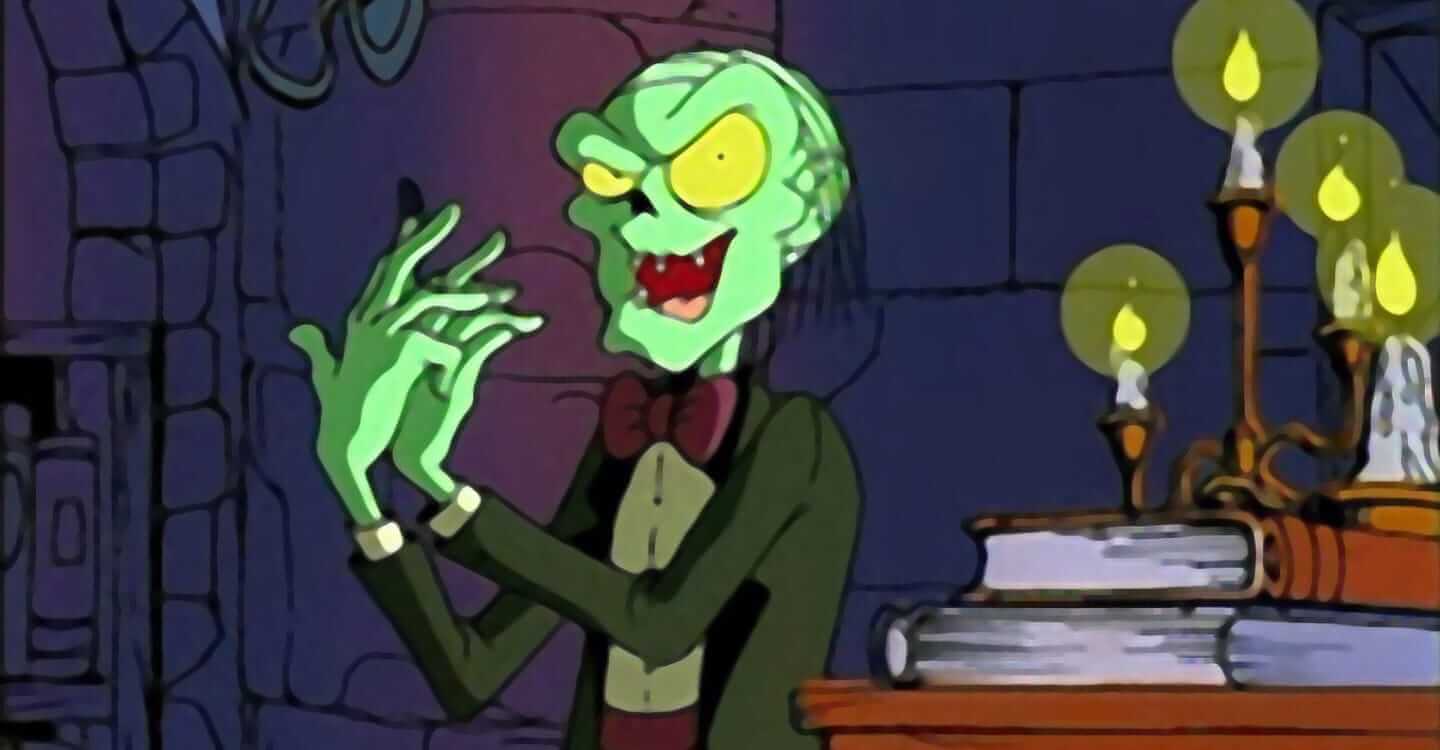 8:30 Courage, the Cowardly Dog– "King Ramses' Curse/ The Clutching Foot" (S1E07) In the first short of this episode, Courage comes face-to-face with a terrifying mummy! In the second, a Lovecraftian fungus takes control of Eustace!
9:00 Sabrina the Teenage Witch– "The Halloween Scene" (S5E06) Sabrina has a bunch of lame friends who don't like Halloween, so she throws a blowout Halloween bash to convince them they're wrong. Things get out of hand when news of her awesome party spreads to the Other Realm!
9:30 Gravity Falls– "Scary-oke" (S2E01) Mabel throws an awesome party with karaoke and confetti, but Dipper accidentally raises the dead. If the twins wanna stop a zombie invasion, they're gonna have to warm up their pipes.
10:00 Invader Zim– "Halloween Spectacular of Spooky Doom!" (S1E12) Zim's archrival Dib accidentally opens a multidimensional portal in his head. Zim is terrified of the earth holiday, but he'll need to face his fears to get into Dib's face.
10:30 Are You Afraid of the Dark– "The Tale of the Midnight Madness" (S2E02) Dr. Vink brings Nosferatu to a movie theater, but when he gets ripped off, he brings Nosferatu to life. Quick note: Are You Afraid of the Dark is available on YouTube, but only if you (or your internet, I suppose) live outside the United States.
11:00 Goosebumps– "The Haunted Mask Part 1" (S1E01) To put a cap on this morning's programming, we've got a Goosebumps power hour. In the first episode of the iconic series, Carly Beth steals a monster mask for Halloween. This mask has a mind of its own, though, and it might not be ready to come off her head…
11:30 Goosebumps– "The Haunted Mask Part 2" (S1E02) Well if you don't watch part two, then you end on a cliffhanger!
And with that, we're knee-deep into the best day of the year!
Enjoying This Post?
Nightmare on Film Street is an independent outlet. All of our articles are FREE to read and enjoy, without limits. If you're enjoying this article, consider Buying us a coffee!
THEME SONG: Does it SLAP or is it CRAP?
The unofficial theme song of the Saturday Morning Scares Halloween Special is "We Are A Monster Band" by Stagefright. Skip to 22:00 on that link for the song. Obviously, this track is a stone-cold SLAP.
CRUNCH TIME
Friend, it's Halloween. I'm not gonna tell you what to do. Eat any spooky cereal you want, but eat a lot of it. As for me, I'm gonna have some Count Chocula, speak with a dracula accent (draculaccent, that is), then pour my cereal milk into my coffee.
What are you watching this Halloween morning? Let us know over on Twitter, Instagram, Reddit, and the Horror Fiends of Nightmare on Film Street Facebook page! For more reviews, recommendations, and cartoons of the doomed, stay tuned to Nightmare on Film Street.
Have a good Halloween, creepy kids!