The name 'Blood Moon' sounds like another needless deviation to arrive following a tumultuous 2020 that continues to bleed into 2021, but it is actually a pretty fascinating occurrence. Setting the scene for Blumhouse and Hulu's holiday horror anthology and the season finale of Into The Dark, this year's total lunar eclipse hints at familiar monstrous terror that phases in a moving parental drama. Emma Tammi (The Wind) returns to the series with Blood Moon, written by Adam Mason and Simon Boyes (Hangman).
Starring Megalyn Echikunwoke (Almost Family), Yonas Kibreab (Silicon Valley), Joshua Dov (Narcos: Mexico), and Marco Rodriguez (Velvet Buzzsaw), Blood Moon revolves around a single mother, Esme, her 10-year old son, Luna, and his well-hidden cyclical ability that threats to reveal itself. When they "move to a small desert town looking for a fresh start they attract all the wrong kinds of attention. As the locals begin to probe, Esme must battle to protect her son and a terrifying secret before the next full moon threatens their very existence."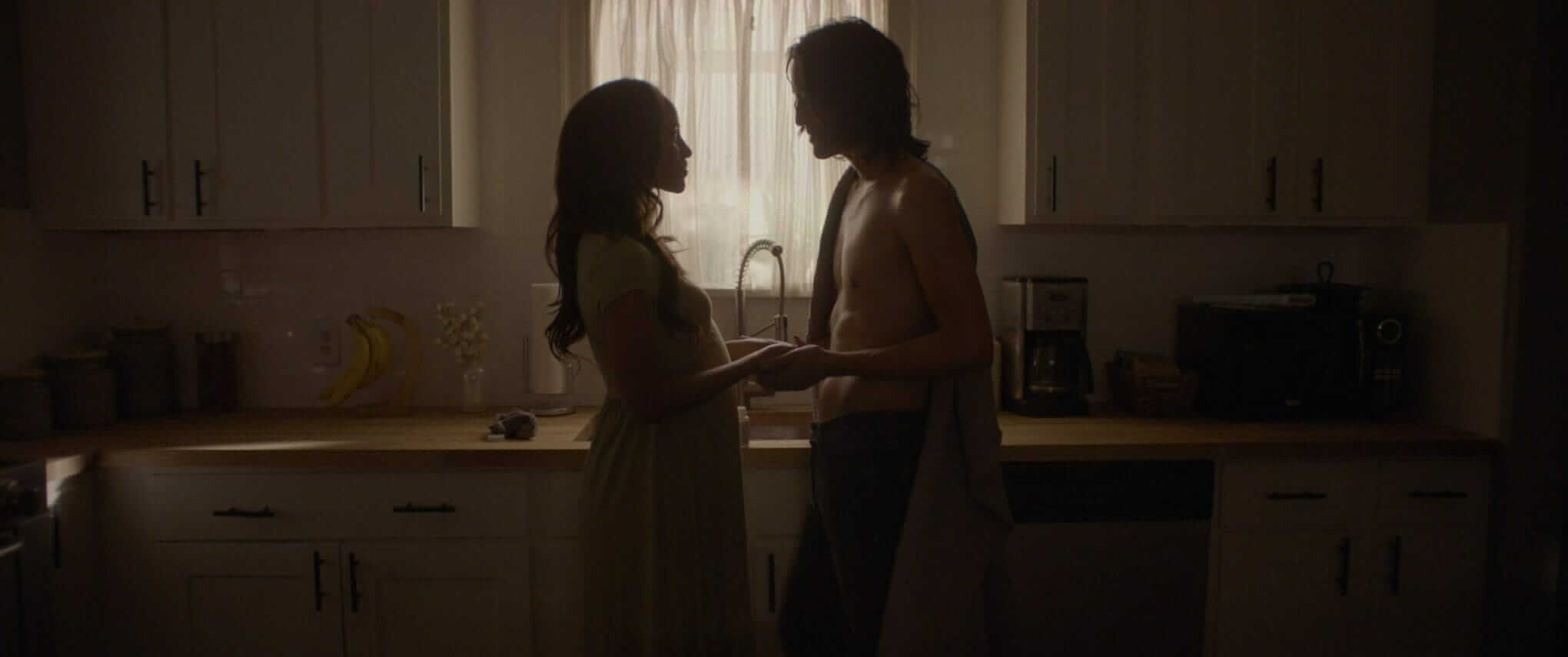 Without Judgment, Without Exception
The classic take on a parent and child on-the-run morphs into something more with Blood Moon. From the bloody beginning, we're introduced to Esme (Megalyn Echikunwoke), a struggling mother making starting over with her young son Luna (Yonas Kibreab) in a remote town while keeping a ferocious secret. As viewers watch Esme assume responsibility as caregiver, find work to make money, and turn a house into a secure home, Adam Mason and Simon Boyes pen poignancy and relevance into their story. Adding quintessential town baddies and a reliable figure sets this episode up with the basis of a new town, same secret, but adds modern-day social commentary and a variety of angles to give Blood Moon that extra bite.
The story maintains a relatively steady pace, not quite lagging, but rather setting up an unexpected final act. When unfortunate circumstances lock into place, the narrative snowballs into tense action quickly. The top of the third act is such a gut punch because anyone watching with a heart will be rooting for Esme and Luna as well as their happiness, but Mason and Boyes assure this boy's mythical condition and his mother's role in their mutual survival are not that simple… or predictable.
"Blood Moon smartly sinks its teeth into substance over style."
Emma Tammi provides a fluid direction from start to end that continues to develop her signature ability to tell a story steeped in emotion over-saturated style or over-the-top visuals. By concentrating on Esme's struggles and the relationship between her and Luna, the sole purpose of Blood Moon leans into storytelling with sincerity. Transformation stories almost always rely on their presentation of visual effects to grab viewers and while Blood Moon does successfully convey the occurrence, it is curiously not the episode's centerpiece.
Being aware of Into The Dark's fast schedule and budget among other things (like operating during a global pandemic) it's understandable that a showy transformation is not possible for want of doing it right. If you're going into this wanting to see a theatrical display of practical and CGI special effects, you won't receive it well. However, if you appreciate a less-is-more approach relying on favorable sound work, a prowling perspective, minimal digital effects, and the power of imagination, then Blood Moon will satisfy. Being the final bookend to Into The Dark's sophomore season that has produced much by way of anthological entertainment under many restrictions, Blood Moon smartly sinks its teeth into substance over style. 
ENJOYING THIS POST?
Nightmare on Film Street is an independent outlet. All of our articles are FREE to read and enjoy, without limits. If you're enjoying this article, consider joining our fiend club on Patreon for only a couple-a bucks a month!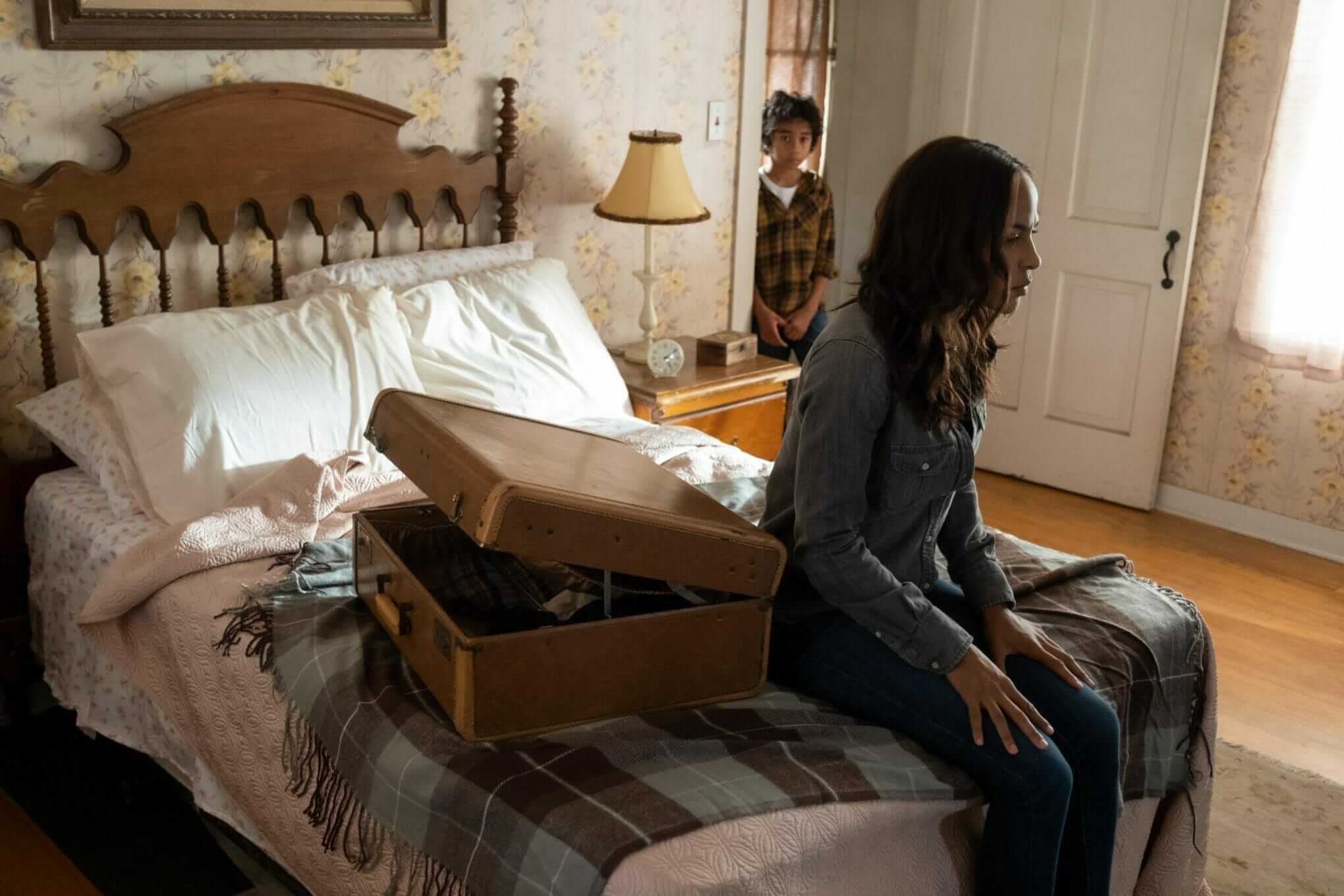 Stubborn And Strong
With the visuals and special effects taking a backseat to the narrative of Blood Moon, a lot of the episode's emotion and appeal comes from the performances. Megalyn Echikunwoke and Yonas Kibreab portray a struggling single-family unit with genuine nuance and sympathy that invites viewers to care about their well-being. From the curious opening scene to the beginning of their new start, we're immediately engaged with their situation and bond. As each day is crossed off of their calendar, and the full moon approaches, the suspense grows. The unnamed threat that looms over the heads of mother and son alike brings them together on screen and easily allows viewers to invest in their predicament.
Echikunwoke maintains a majority of Blood Moon's perspective, successfully portraying both strength and weakness in each scene. Written and acted with thoughtful range, the character of Esme adds a complicated bravery and admirable morale to this season of Into The Dark's final heroine. Kibreab's well-behaved and independent Luna naturally invokes adoration with his innocent disposition, which makes it that much harder to watch him cope with such an unstoppable, nefarious condition. Together, the two of them make up a touching duo that persevere through a 30-day cycle of incurable fear and horror. 
"[

Echikunwoke's]

Esme is as powerful a character as they come."
Complementing Echikunwoke's performance and the theme of motherhood is Esme's role as a woman. In an effort to keep her son from harm, she takes on the tremendous task of sole caregiver, breadwinner, and protector. Educated, cunning, resourceful, and true, Esme is not easily manipulated or distracted. She is a good mother, but she's alone in this struggle and still pushes herself to make the best of the situation while making ends meet. Whether it's providing for Luna's basic needs, teaching him at home, working extra shifts, or welding together a cage, Esme is as powerful a character as they come.
Like many women, she finds herself in a difficult position with her home life and at the mercy of vile, unwanted male advances at every turn. Sacrificing her own goals and dreams in order to care for Luna, Esme expresses both confidence in her capabilities as well as her understandable moments of fragility. Blood Moon intentionally shines a full light on one woman's call to action for the sake of her son by way of narrative entertainment, but also allows a deeply fierce and vulnerable woman to emerge out of unsought darkness.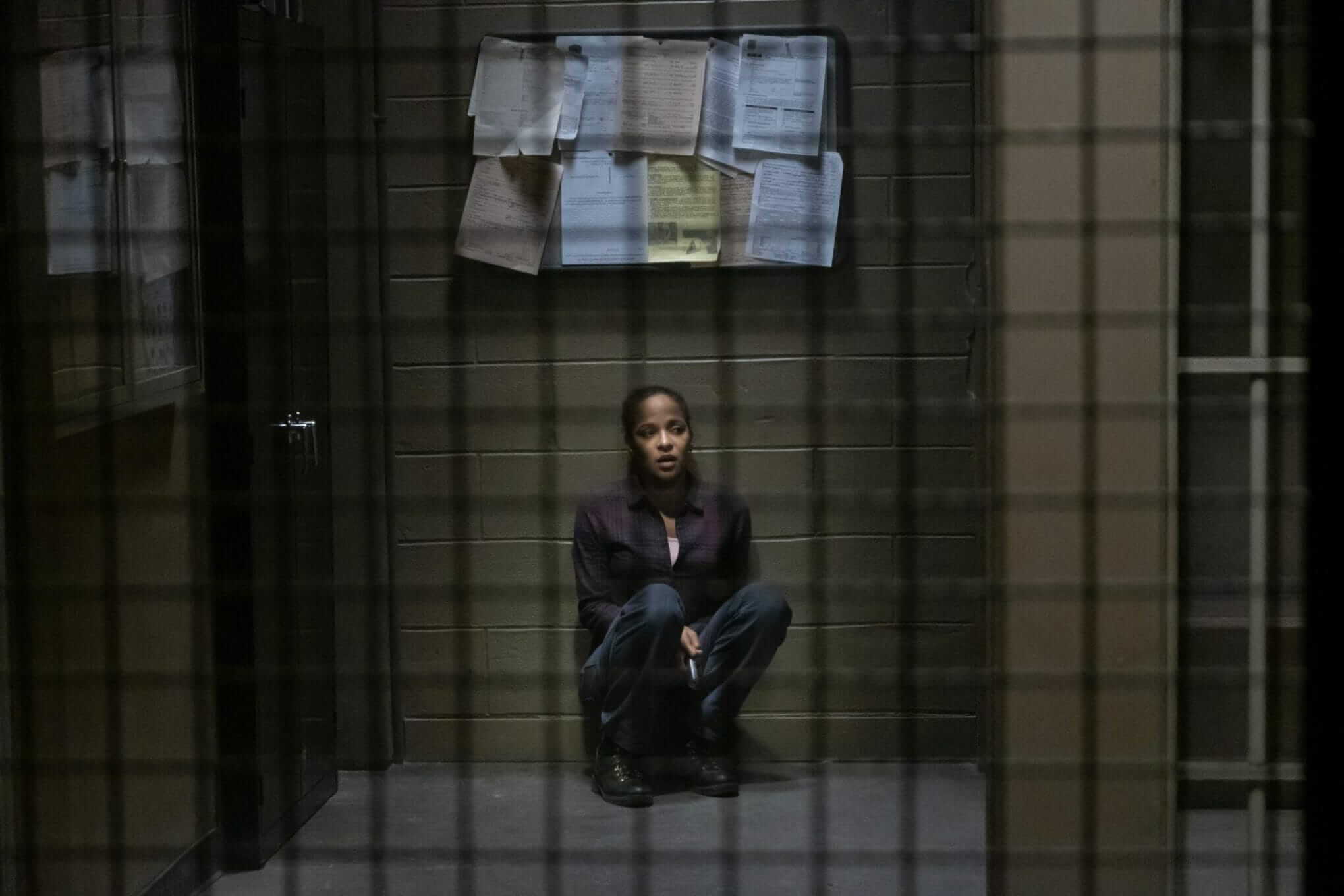 This Place Has Hidden Depth
The moon holds a special power over the beings in which it orbits. Creating the push and pull of the tides, the moon is a comprehensive necessity to the planet as well as a source of great scientific mystery, cultural project, and even lore. As the moon constantly moves through a set of infinite phases, it's not often that something spectacular happens until the moon, the sun, and Earth all perfectly align. Placing the moon in a special compass of view, the phenomena that occurs every 19 years is referred to as a blood moon.
Being the title of Into The Dark's second season finale, Blood Moon ends the series with a level of balance and completion using its simple narrative to craft a poignant story of mother and son. Similar to the way the planetary mass changes, releasing and withholding light, this installment has a hidden meaning that controls exposure. The werewolf mythology takes shape through hereditary genealogy unintentionally passed down to Esme's son from his father. The secrecy revolving around this trait and Luna's name itself, all thematically call back to the manipulations of the moon. 
"…Blood Moon ends the series with a level of balance and completion using its simple narrative to craft a poignant story of mother and son."
As a caring mother and innocent child, Esme and Luna are both bound to the lunar calendar. When the moon shines bright and full, Esme's son changes from a mild-mannered little boy to something dangerously supernatural. Her determined preparation as well as her natural protective instincts give the episode a heartfelt wholeness that speaks to the unflinching bond between a parent and a child. Blood Moon brilliantly circulates the commitment of parenthood in sync with the complications of womanhood. Though the core of this story does not deviate much from the many other transformative creature tales out there, it manages to confidently portray its content in fresh relevancy.
The depths of interpretation in Mason and Boyes' writing is wonderfully nuanced as it goes beyond depicting the relentless love of a mother, but also draws out more complex parenthood metaphors. From providing for a child with a special condition or needs, to protecting a child from themselves and others, the fear of a child growing up, to surviving as a single parent, Blood Moon has strong bones with so much meat to chew on.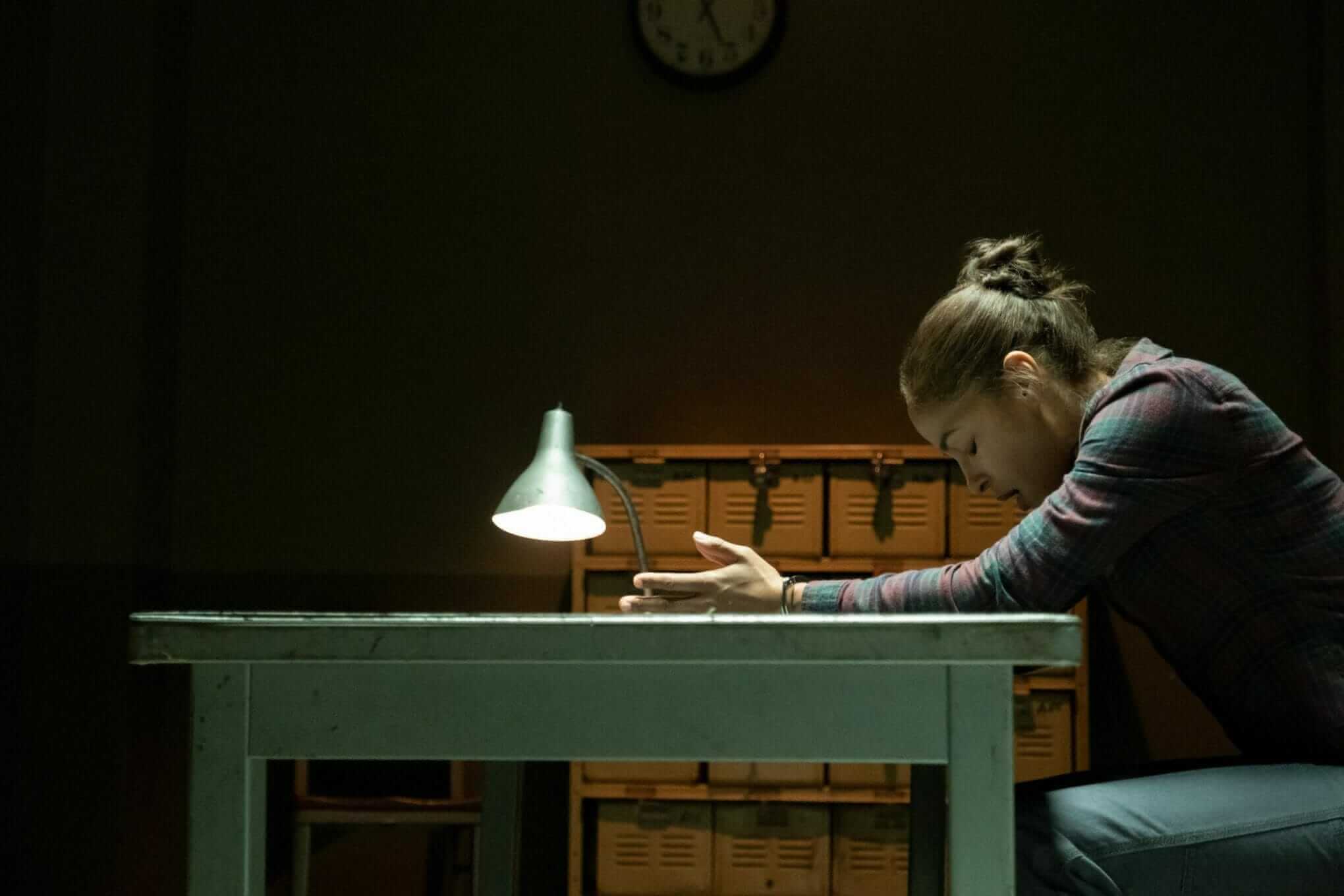 As Into The Dark comes to an end on its monthly holiday horror season, Blood Moon is a worthy close to a collection of diverse, culturally relevant, and progressive content. The series as a whole has consistently turned out individually exceptional pieces that have introduced the genre to extremely skilled contributors and provided a celebratory host of seasonal scares, commentaries, and genre voices. Fans will surely hope to see the show return with more in the future and newcomers have 24 unique stories and even more filmmakers, performers, writers, and artists to discover… if they dare. Emma Tammi's Blood Moon is available to stream exclusively on Hulu Friday, March 26th, 2021. Be sure to keep your eye on the moon and then on the future. 
Have you been streaming Blumhouse and Hulu's Into The Dark series? Did you enjoy March's hairy, but emotionally driven season finale episode, Blood Moon? What did you think about the episode's various metaphors? Let us know your thoughts over on Twitter, Reddit, or in the Horror Movie Fiend Club on Facebook!