Chuck E. Cheese needs to be taken down a peg. I don't have anything against the mouse personally, but his party house of screaming tots, low bathroom sinks, broken token dispensers, and cardboard pizza is pretty lame. But it's also tacky-nostalgic, so every time my niece's birthday rolls around, I'm all "heck yes" when she wants to go… again.
It's almost a right of passage, being one of the lucky tots to stare into the cold eyes of the animatronic mouse and friends as they sing you a proprietary birthday song. I've never been bestowed the honor personally (which is why I live vicariously through my niece), but I can imagine quite a few kids are terrified staring up at those cold, unwavering globes, wondering – "does that mouse want to eat my soul?"
Obviously, the answer is a resounding yes.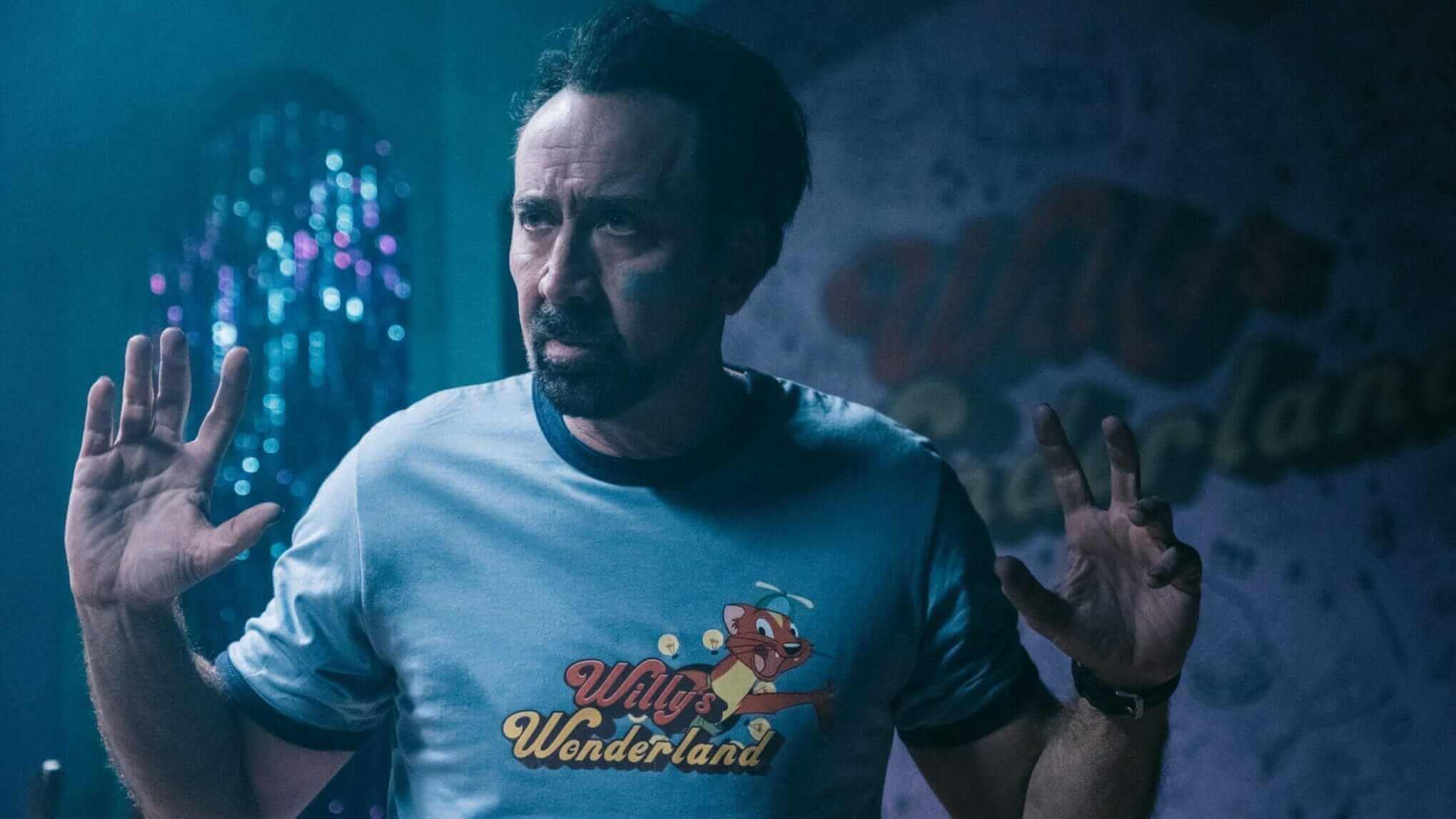 Willy's Wonderland takes that fear and dials it up to 11. Directed by Kevin Lewis from a screenplay by G.O Parsons, the film drops you in a nightmarish hellhole where a singing weasel named Willy and his fuzzy robot band of misfits are your keepers.
Apart from the giant evil robots, the film also stars Nicolas Cage, whose unique brand of kickassery is the jelly to this animatronic PB & J horror sandwich. He also serves as a producer, having signed aboard the project after Parson's screenplay gained traction on the Bloodlist, intrigued by the main character's unique form of communication. Violence, primarily.
Ads are Scary
Nightmare on Film Street is independently owned and operated. We rely on your donations to cover our operating expenses and to compensate our team of Contributors from across the Globe!
If you enjoy Nightmare on Film Street, consider Buying us a coffee!
"Nicolas Cage['s] unique brand of kickassery is the jelly to this animatronic PB & J horror sandwich."
Willy's Wonderland takes no time to get us in the clutches of the evil animatronics. After his car runs over some misplaced police spikes, a Stranger (Cage) is forced to do some janitorial work at the old Willy's Wonderland funhouse restaurant in exchange for four new tires from the small-town mechanic.
Locked inside overnight, our diligent Janitor works efficiently to get the trashed restaurant up to shipshape, even after the animatronics animate on their own, out to eat his soul. yum yum.
Meanwhile, teenage townsperson Liv (Emily Tosta) tries to take a gas can and a match to the evil Wonderland and is detained by Sheriff Lund (Beth Grant, Donnie Darko). It isn't long before her rebellious pals break her out and they head back to the funhouse for round two, hellbent on setting it ablaze and stopping some still unknown, but definitely robotic, evil within.
As the two groups collide — the evil-hating teens and the silent Janitor just out to finish his nightly task — the secrets of Willy's Wonderland are revealed, but not without a barrage of creepy critters getting their heads Rage-Caged in.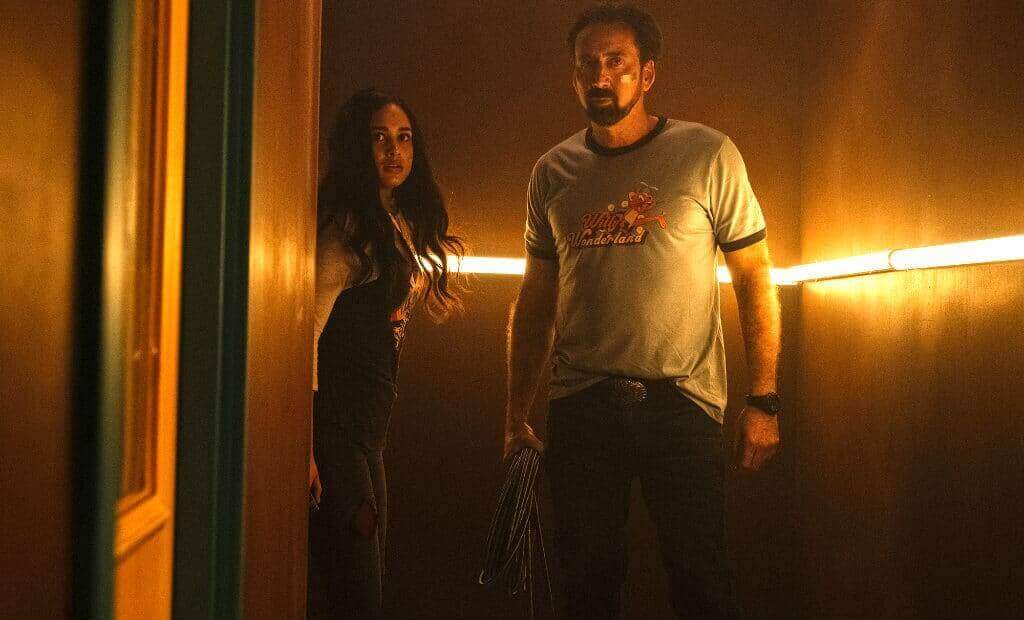 Sights, sounds, and colors abound in this theme park thrill ride. Willy's Wonderland hits hard and fast, and keeps the evil animatronics served up at a steady dose to keep the excitement level high. A bold b-movie that knows what it is, the Wonderland doesn't try to overdeliver, instead serving up extra helpings of the definitely re-heated from earlier cardboard pizza we came for.
The film never takes itself too seriously and plays with humor well, thanks to Cage's almost entirely silent performance.  The Janitor's methodic and silly repeated character quirks, like changing his T-shirt every time he gets it bloodied up, bring some lighthearted chuckles throughout. He kills some rather intense action sequences on purpose, dipping out of the chaos to take a scheduled break sipping sodas and playing pinball in the back, which surprisingly turns out to be some of the greatest moments of the film. I left Willy's Wonderland thinking of all the things I would trade to get to hang out with Nic Cage playing pinball. (But I don't own anything of value so I gave up pretty quick)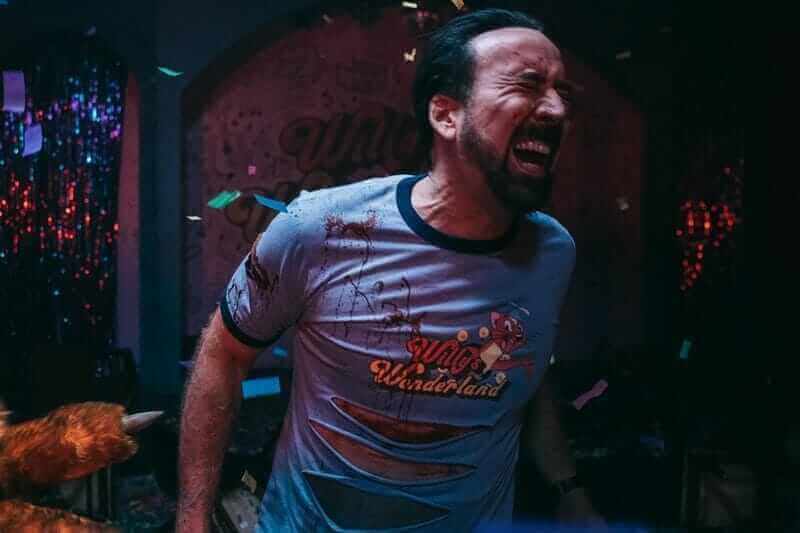 The only real fault of Willy's Wonderland is its lack of finesse with the setup. Our characters kind of bumble around keeping secrets until the animatronics are ready to go off. The teens especially get underserved here, bickering through most scenes until they're allowed to divulge some history of the cursed pizza joint. We're then assaulted with flashbacks, which are fine in and of themselves, but come dropped in and throughout more teen trouble; these kids lack any concrete plan or evil animatronic awareness. And when you're entering a lair of evil animatronics, you need evil animatronic awareness.
Enjoying This Post?
Nightmare on Film Street is an independent outlet. All of our articles are FREE to read and enjoy, without limits. If you're enjoying this article, consider Buying us a coffee!
I understand the majority of the teens exist purely for body count fodder, but apart from a few bubble gum pops, we're not given much meat to work with before Willy and his pals feast upon them. Surely one of them has a lifelong fear of giant ferrets, right?
Willy's Wonderland knows what it is and delivers. Nic Cage up against a bunch of evil fuzzy robots out to eat his soul. I know I'm here for it, and if you're reading this website, I can venture a guess you are too.
Willy's Wonderland is in select theatres, on digital and on-demand February 12th. Let us know what you thought of this evil animatronic action flick over over on Twitter, Reddit, Facebook, and in the official Nightmare on Film Street Discord. Not a social media fan? Get more horror delivered straight to your inbox by joining the Neighbourhood Watch Newsletter.