If you've listened to the recent episodes of the Nightmare On Film Street podcast, you might have noticed the topic of nu metal has come up a couple times when discussing the soundtracks of Bride of Chucky and Valentine. Heavy metal has always had a presence in horror, especially in the '80s with movies like Trick or Treat and Black Roses, which played on played on parents' fears of the Satanic themes found in rock music of that era. But between the late '90s and early 2000s, it seemed every horror film and high-adrenaline action flick had to have at least one nu metal song on its soundtrack. So how did nu metal go from the prescribed sound for horror to fading back into obscurity a few years later? Well, it's time to break out your old JNCO jeans and wallet chain as we crack open this time capsule and explore the timeline of nu metal music in horror cinema.
But some of you might be asking, what is nu metal? The subgenre doesn't have a specific one-size-fits-all sound, but some common traits were the heavy yet groovy riffs, with the vocalists jumping from singing softly to screaming like a demon to rapping over turntable scratching. What made the music so attractive to so many listeners is that it watered down the harsher aspects of extreme metal with elements of hip-hop, industrial, alternative rock or goth rock. People who weren't necessarily fans of metal found nu metal much more accessible, resulting in its mainstream success. The lyrics often touched on themes of depression, angst and mental illness, which was particularly appealing to teenagers (myself included) who might have felt isolated and different from the regular crowd– feelings many horror fans related to as well. The musicians themselves grew up watching horror films and their love for all things spooky inspired their band's aesthetic and the nightmarish imagery of their music videos.
MISSING LINK
As with any cultural movement, it wasn't a single event that led to the creation of nu metal, but a series of events. However, one of the big building blocks was a crime thriller released in 1993 called Judgment Night. The movie itself isn't exactly memorable– four friends, played by Emilio Estevez, Cuba Gooding Jr., Stephen Dorff and Jeremy Piven, take a shortcut through a poor neighborhood in Chicago, where they become witnesses to a murder and are hunted down by a gang of drug dealers led by Denis Leary– but the soundtrack was revolutionary.
The producers wanted to capitalize on the burgeoning popularity of rap-rock, fueled by groups like Run-DMC, Beastie Boys, Anthrax, Rage Against the Machine and Ice-T's controversial metal band Body Count. The project was spearheaded by Immortal Records founder Happy Walters, who came up with the idea of putting established thrash metal or grunge bands with rappers into the same studio and have them write original collaborative tracks. Among the odd pairings were Helmet and House of Pain, Biohazard and Onyx, Mudhoney and Sir Mix-A-Lot, and Cypress Hill with Sonic Youth and with Pearl Jam on a separate track. My favorite mash-up has to be "Disorder" featuring Ice-T and Slayer covering three back-to-back songs by Scottish punk band the Exploited.
Some tracks turned out better than others, but overall, the experiment was a success. The Judgment Night soundtrack reached #17 on the Billboard charts and captured the attention of both rap and rock fans alike. That got the ball rolling for what was to come. Happy Walters' label would go on to sign Korn and Incubus, and release the soundtracks for Spawn and Blade II, repeating the same formula as Judgment Night, though with electronic artists this time around, with mixed results. In 2016, the Judgment Night soundtrack got a limited vinyl reissue for Record Store Day, more than 20 years after the movie was released and largely forgotten. It's one of those rare instances where the soundtrack holds up better than the movie itself.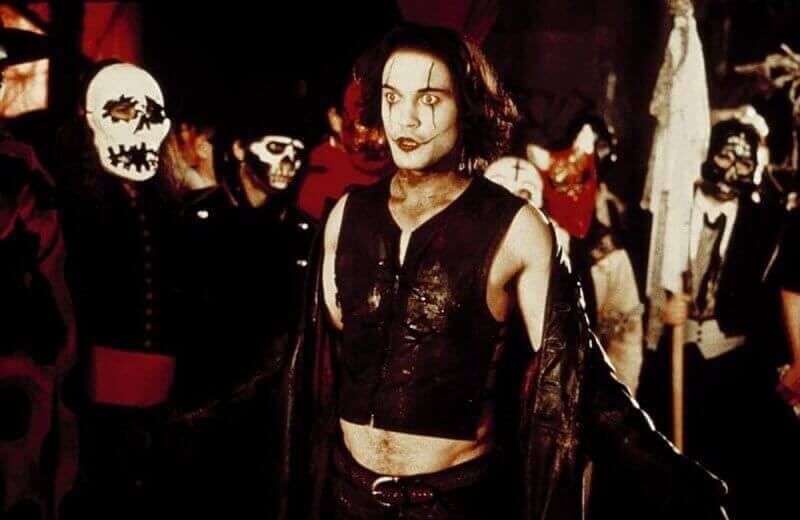 ALL IN THE FAMILY
By the mid-1990s, nu metal had exploded. Bands like Korn were filling stadiums, selling millions of copies of their albums and were cracking the top of the Billboard 200. Misunderstood kids were finding their own community through internet forums, where they would swap music and movie recommendations. Meanwhile on TV, pro wrestlers were using nu metal for their entrance music and MTV shows like Beavis and Butt-Head and Daria were giving nu metal bands tons of exposure while simultaneously mocking them. The film industry was taking a notice.
One of the first movies to integrate nu metal into its soundtrack was John Carpenter's Escape From L.A. in August of 1996, with bands like Sugar Ray and Deftones, who also had a track (along with Korn) in the Crow: City of Angels, released that same month. As mentioned above, 1998's Bride of Chucky boasted a heavy soundtrack, with Coal Chamber, Static-X and Powerman 5000 (fronted by Rob Zombie's little brother Spider One). That same year, a lesser-known movie called Strangeland was released, written and produced by Dee Snider of the '80s hair metal band Twisted Sister, though the soundtrack starred up-and-comers in the metal scene like Coal Chamber, Sevendust, Soulfly and System of a Down.
ENJOYING THIS POST?
Nightmare on Film Street is an independent outlet. All of our articles are FREE to read and enjoy, without limits. If you're enjoying this article, consider joining our fiend club on Patreon for only a couple-a bucks a month!

"At the start of the new millennium, nu metal dominated so many motion picture soundtracks […] This period is often referred to as 'nu horror,' due in part to the music. "
The following year, the apocalypse thriller End of Days showcased Arnold Schwarzenegger action scenes with Korn and Limp Bizkit playing in the background. At the start of the new millennium, nu metal dominated so many motion picture soundtracks, I couldn't possibly name all of them, though some of the most notable ones were Dracula 2000, Scream 3, Book of Shadows: Blair Witch 2, Ginger Snaps and Brian Yuzna's Faust. This period is often referred to as 'nu horror,' due in part to the music.
Probably the biggest shock of that year was when Limp Bizkit was trusted with the theme song for the action spy blockbuster Mission: Impossible II, reworking the classic television show's theme into a heavy breakdown on "Take A Look Around." Frontman Fred Durst became a full-fledged celebrity, performing at music award shows and was even rumored to have briefly dated Britney Spears. In 2003, Limp Bizkit's cover of the Who's "Behind Blue Eyes" was featured on the soundtrack of the psychological thriller Gothika. A music video for the song was put out to promote the movie, but its premise seemed like it was merely an excuse for Durst to make out with Halle Berry.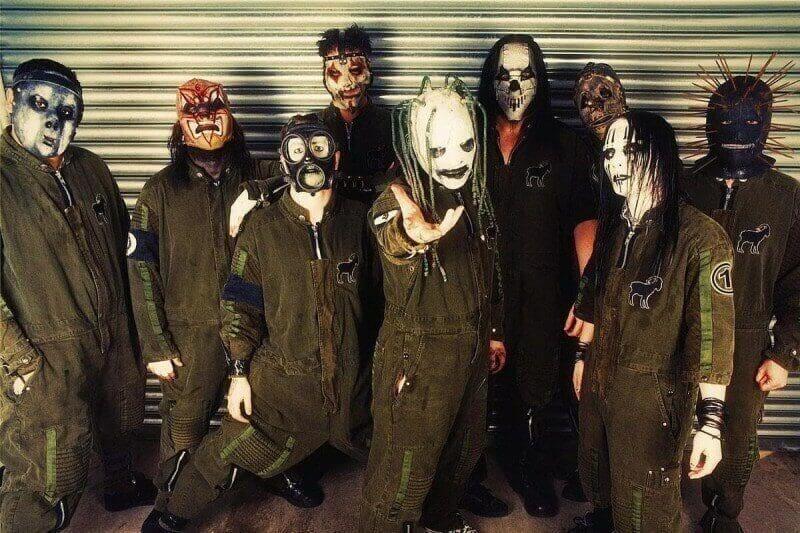 Around this time, a new band had emerged onto the scene: Slipknot (my personal favorite of the bunch). Each of the nine members wore their horror influences on their sleeves, dressing in spooky masks and matching jumpsuits that made them look like slashers that didn't make the cut to having their own franchises. Their music video for their song "Spit It Out" pays homage to the Shining, with the bandmates recreating iconic scenes from the movie. An exclusive mix of "My Plague" was chosen as the main song for the 2002 film adaptation of the zombie video game Resident Evil, and in 2004, Slipknot was invited back for the soundtrack to the sequel Resident Evil: Apocalypse. The band can also be seen performing live in the background in the deathsport thriller Rollerball.
Smaller nu metal band were also getting their time in the spotlight during this wave of sequels and horror classic remakes, such as Hed P.E. in Final Destination 2 and 3, Kittie in the crime thriller Murder By Numbers, Mushroomhead in the hilariously terrible Scorpion King, Stutterfly in the 2005 remake of the Vincent Price classic House of Wax, and Ill Niñ0 and Spineshank in the highly anticipated Freddy Vs. Jason. Nu metal's edginess and down-tuned distortion was also the perfect sound for a new subgenre of horror labeled by the press as 'torture porn,' particularly the Saw franchise, which made use of bands like Mudvayne and Fear Factory.
SLEPT SO LONG
Nu metal soundtracks hit their peak in 2002 with Queen of the Damned, the loose sequel to Interview With the Vampire, based on the novels by Anne Rice. The story follows vampire Lestat (Stuart Townsend) as he awakens in the present time after a decades-long slumber. Intrigued by the music of the era, he joins a metal band and openly sings about being a vampire. His band's overnight success alerts vampires all over the world who had wished to remain underground, and awakens the very first vampire Akasha (played by R&B star Aaliyah, who sadly died in a plane crash just as the production wrapped its principal photography).
Lestat's band's haunting original music was written by Korn singer Jonathan Davis and Richard Gibbs (whose previous composing credits included Dr. Dolittle and Big Momma's House). Unfortunately, due to record contract limitations, Davis was not allowed to sing any of the songs he had written, so instead he entrusted the vocal talents of David Draiman of Disturbed, Wayne Static of Static-X (RIP), Chester Bennington of Linkin Park (RIP), Jay Gordon of Orgy, and (regrettably) Marilyn Manson. The rest of the soundtrack is padded with songs by Deftones, Papa Roach, Godhead, Dry Cell and Earshot.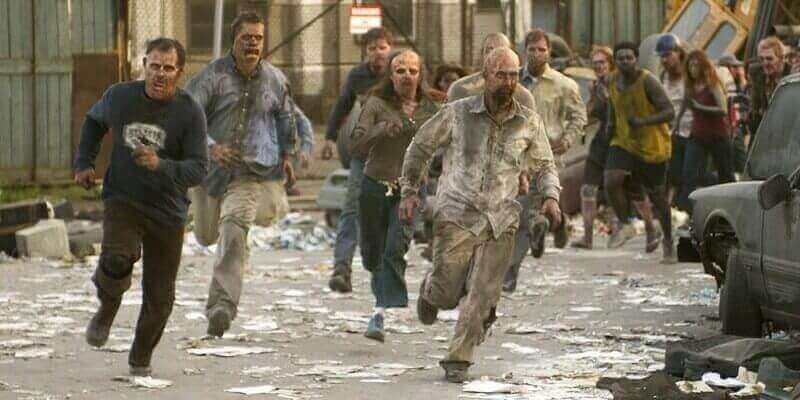 DOWN WITH THE SICKNESS
But the good times can only last for so long. By the mid-2000s, the hype for new nu metal was beginning to die down. The scene was oversaturated with bands looking to cash in on the trend and bigger bands like Limp Bizkit were seeing a fraction of the record sales they had a few years prior. Bands were either breaking up or changing their sound, and a new subgenre called metalcore (also known as screamo) was gaining popularity.
There are many reasons why nu metal burned out after shining so bright for half a decade. But I have a theory that one horror movie was partially responsible for its decline: Zack Snyder's 2004 remake of the Romero classic Dawn of the Dead. At the midpoint of the film, we're treated to a montage of our survivor protagonists killing time in the abandoned shopping mall, accompanied by a jazzy, tongue-in-cheek cover of Disturbed's "Down With the Sickness" by Richard Cheese and Lounge Against the Machine. Fans heard the lyrics they knew so well being repeated in a satirical fashion, and that planted the idea that maybe Disturbed, as well as the whole movement, had become a joke to the rest of the world. Nu metal kept on trucking for a few more years after that, appearing on the occasional movie soundtrack, though by the end of the decade, the top-tier bands had transitioned to video game soundtracks.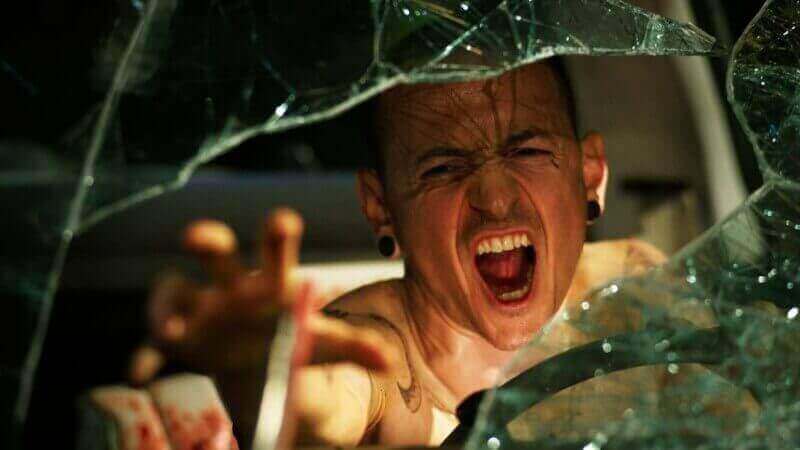 ALL OUT LIFE
Even though the trend died down 15 years ago, the titans of nu metal continue to tour and release records to this day. Having achieved commercial fame and recognition early in their careers, some members went on to pursue careers in the film industry. For example, Chester Bennington graced the screen a few times before his unfortunate passing, first with brief cameos in Crank and Crank: High Voltage, and later in a more substantial role in Saw: the Final Chapter, playing a racist who gets his comeuppance when he finds himself stuck in one of Jigsaw's traps. Jonathan Davis returned to composing music, this time teaming up with Nicholas O'Toole to write the scores for After the Dark and American Satan.
When Limp Bizkit took a hiatus in 2006, Fred Durst spent his newfound free time co-starring in the direct-to-video horror mystery Population 436. Having directed several music videos, Durst set out to direct his own features, beginning with the Education of Charlie Banks, starring Jesse Eisenberg and Jason Ritter. His most recent feature, the Fanatic, is a thriller starring John Travolta and Devon Sawa, about a fan whose toxic obsession over a movie star leads to death and violence, supposedly based on Durst's real-life experience with a stalker. The movie famously flopped, earning a measly $3,000 in its opening weekend and a 16% on Rotten Tomatoes.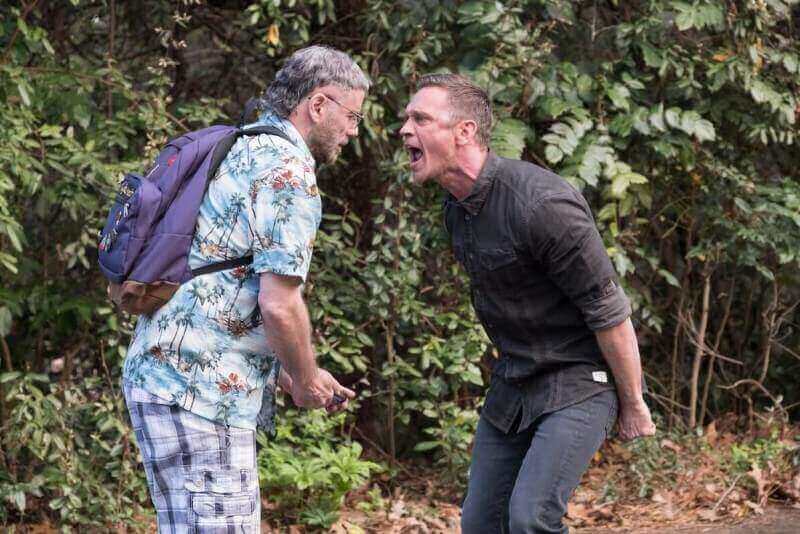 Slipknot has been the most involved in the independent horror scene. Singer Corey Taylor has played many small roles in indie horrors, such as a psychotic creep in Fear Clinic, a security guard in Sharknado 4: The 4th Awakens, and a radio DJ telling spooky stories on the air in the Halloween anthology Bad Candy. Being the massive horror fan that he is, Taylor also signed on as a producer for the four-hour '80s horror documentary In Search of Darkness, appearing as a talking head as well. Fun fact, the latest version of the mask Taylor wears on stage was designed by gore effects master Tom Savini. His bandmate Shawn Crahan (better known as 'Clown,' the guy who hits beer kegs with a baseball bat onstage) went from directing the band's music videos to directing his own debut feature Officer Downe, a horror-comedy about an undead cop, based on the graphic novels of the same name.
"Even though the trend died down 15 years ago, the titans of nu metal continue to tour and release records to this day."
In some ways, nu metal is having a renaissance thanks to younger metalcore bands who grew up in the 2000s and are now bringing back the record scratches and bouncing riffs. Whether you're still embarrassed that you tried to pull off a backwards cap and a braided goatee back in the day, or if you still secretly sing the "Freak on a Leash" scat part in the shower, nu metal has as much of a place in horror history as the synth in '80s horror or the funky prog rock of giallo. The music added an extra flavor to the movies of that era, making them all the more enjoyable decades later. If you feel like revisiting this special time in history, I've made a Spotify playlist of all the soundtracks mentioned above.
Were you a fan of nu metal? Who was your favorite band? Which movie do you think is the quintessential nu-horror film? Tell us on Twitter, Reddit, Facebook, and in the official Nightmare on Film Street Discord. Not a social media fan? Get more horror delivered straight to your inbox by joining the Neighbourhood Watch Newsletter. And for all the best horror interviews and reviews online, keep lurking at Nightmare on Film Street.