I've long been fascinated about how horror cinema and musical genre crossover. Music fans can discover their new favorite movie when their favorite artist references the film in their lyrics, and film fans can discover their new favorite artist when their music is featured in their favorite movie's soundtrack. I first started connecting these threads with punk rock and horror, observing how the subculture was represented in film and how bands would pay tribute to the movies that made them. Around this time last year, I wrote a piece about nu metal music and how it became incredibly prominent in horror in the early 2000s, only to fizzle out less than a decade later.
Now comes my most exhaustive piece to date: tracing hip-hop's early days in horror soundtracks and observing how themes of horror have been integrated in the music. Unlike nu-metal and punk, hip hop never went out of style. It has only evolved and become bigger and bigger in the spotlight. Rappers have become movie stars. And the kids who grew up with late-night spookies on their TVs and beats in their headphones went on to create their own hip-hop subgenre inspired by horror films.
Rap It Up!
One of the first appearances of a rap song in a horror film was in 1988 with A Nightmare on Elm Street 4: The Dream Master. During the end credits, Robert Englund as Freddy Krueger can be heard rapping opposite Brooklyn trio the Fat Boys in their song "Are You Ready For Freddy?" But behind the scenes, another hip-hop group was competing to have the coveted closing song.
DJ Jazzy Jeff and Fresh Prince (later known as Will Smith) were previously in talks with New Line to write their own rap song for the movie called "Nightmare On My Street," which included a verse where Smith went back and forth with an imitation of Freddy, but the studio decided to go with the Fat Boys' song in the end. The rap duo still released the song on their own label, and attempted to put out a music video, but were stopped short when they were sued by New Line. The music video was buried, only to reemerge 30 years later.
"By the 1990s, it had become common to hear a rap song during the end credits of a family-friendly movie."
By the 1990s, it had become common to hear a rap song during the end credits of a family-friendly movie. The lyrics were light-hearted and often summarized the plot of the film. These became known as the "wrap-up rap songs," and was a way for film studios to capitalize on the growing popularity of hip hop, even if the film executives didn't quite understand the appeal.
You might remember hearing "Addams Groove" by MC Hammer at the end of the 1991 live-action reimagining of The Addams Family. The end credits for the 1993 sequel, Addams Family Values, featured a song by Tag Team, which sounded almost exactly like their one-hit wonder "Whoomp! (There It Is!)" except for the insertion of the line "Addams Family" in the chorus.
Will Smith became the king of the wrap-up raps once his acting career took off and he started landing lead roles in blockbusters like Men in Black and Wild Wild West, insisting on writing a song about the movie to be played in the end credits. He brought back this formula in 2019 when he played the Genie in the live-action remake of the Disney classic Aladdin, collaborating with DJ Khaled in the remix "Friend Like Me."
However, wrap-up raps thankfully remained a hacky cliché of the '90s. Somewhat bringing it back to horror, a Youtuber recently parodied Smith's vocal style by writing raps for films with a more serious tone, such as Get Out and Arrival. The violently nostalgic horror comedy Psycho Goreman joined in the joke with their own rap song "PG For Short " in the end credits.
Dangerous Mindz
Mercifully, there are a handful of horror films out there that feature rap songs that don't sum up the plot in a super cheesy way. The soundtrack for Guillermo del Toro's superior sequel Blade II featured rap greats like Ice Cube, Cypress Hill, Busta Rhymes, the Crystal Method, Mos Def and the Roots. Wes Craven's Eddie Murphy vehicle Vampire in Brooklyn bumped old-school tracks from Salt-N-Pepa and MC Hammer.
Spooky mannequin flick The Fear secured tracks from Gravediggaz and Insane Clown Posse (who we'll talk about later). Jordan Peele's Us remixed the haunting beat of "I Got 5 On It" by Luniz for its theme, and snuck in NWA's "Fuck Tha Police" for a scene that's hilarious as it is violent. Most recently, rapper 21 Savage, a horror fan in his own respect, wrote two songs specifically for Spiral: From the Book of Saw.
"Mercifully, there are a handful of horror films out there that feature rap songs that don't sum up the plot in a super cheesy way."
Sometimes, the entire score of a film is trusted in the hands of a rapper. RZA, beatmaker and mastermind behind the Wu-Tang Clan, has several composing credits, such as Ghost Dog: Way of the Samurai, Kill Bill Vol. 1, Blade: Trinity and Thriller (RZA also played the principal in the South Central-set slasher). Being such a fan of classic kung fu films, RZA tried his hand at making his own movie by collaborating with Eli Roth to write, produce and direct the action fantasy The Man With the Iron Fists.
Another artist to take a crack at directing was rapper-turned-experimental producer Flying Lotus, who collaborated with Salad Fingers creator David Firth to make the gross-out Shudder Exclusive Kuso. If you're brave enough to undergo its onslaught of nightmare imagery and pus, you'll be treated to an excellent opening and closing spoken word performance by weirdo rapper Busdriver.
ENJOYING THIS POST?
Nightmare on Film Street is an independent outlet. All of our articles are FREE to read and enjoy, without limits. If you're enjoying this article, consider joining our fiend club on Patreon for only a couple-a bucks a month!

Hoods of Horrors
The aforementioned Vampire in Brooklyn was part of a trend that began in the '90s that relocated horror away from the dark backwoods and quiet suburbs, bringing it to the noisy streets of the inner-city where hip hop was born and bred. Think crime dramas like Boyz N the Hood and Menace II Society, but with added elements of the supernatural. For the longest time, horror flicks only featured a single token black character, who was usually the first to be killed off. But this new trend of 'hood horrors' required a mostly black cast, very reminiscent of 1970s Blaxploitation horror such as Blacula and Ganja & Hess.
Many of the roles still enforced stereotypes, but it was a step in the right direction for representation. The only pale faces that would show up were either a villain or a police officer investigating the scene of the crime hours after it was committed. The sound for these films had to reflect the environment, though by then, rap music was becoming more and more popular, and most of these low-budget productions could only afford discount bin MCs whose names have been lost in the ether.
"The hood presents a unique scenario where characters are accustomed to violence and are willing to face danger head-on in order to survive."
One of the first films to be set in the hood was Def By Temptation in 1990, about a succubus seducing and killing black men she meets at a bar in New York City. Then came the Spike Lee-endorsed 1995 anthology Tales From the Hood; Clarence Williams III (RIP) gives an iconic performance as Mr. Simms, the eccentric owner of a funeral parlor who acts as the crypt keeper, dishing out stories of police brutality, domestic abuse and gang violence.
Probably the most bizarre example arrived in the year 2000 with straight-to-video Leprechaun in the Hood. After a failed trip to space, the pint-sized slasher came back down to Earth to battle hustlers and wannabe rappers. Similar to Freddy, Warwick Davis performed his own rap song as the Leprechaun called "Lep in the Hood," though it didn't seem as out of place since the character already speaks in rhymes. Strangely enough, the premise was well-received, so it was repeated in 2003 with Leprechaun: Back 2 Tha Hood.
The hood presents a unique scenario where characters are accustomed to violence and are willing to face danger head-on in order to survive. They are often packing heat and would not hesitate to blast someone if they feel the least bit threatened, a far cry from the typically helpless and unarmed slasher victim. Though all their firepower is no match against the forces of evil, some out-of-the-box thinking is required to slay the beast.
From Rappers To Actors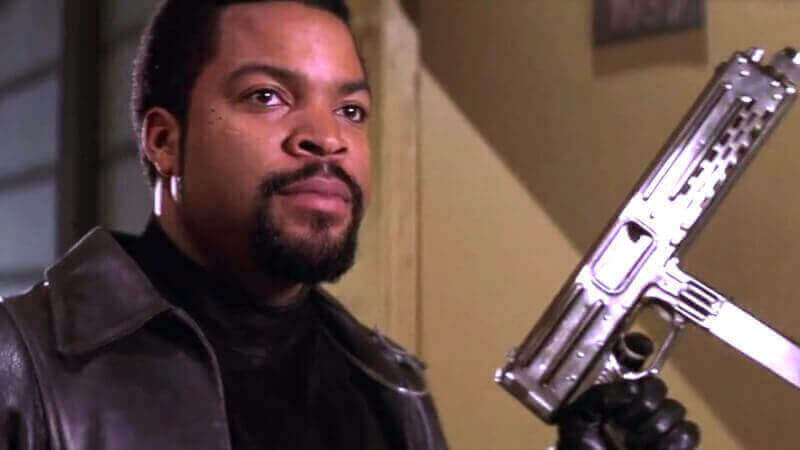 Music videos allowed rappers to cultivate their personas, and as their video budgets became bigger, the storylines became more intricate and dramatic and rappers had to develop some serious acting skills to make the story believable to the viewer. Once a rapper was comfortable performing in front of a camera, it was only logical that they would make the transition to acting in feature-length films. Many found success as Hollywood was desperate for people who had the "tough guy look" with the added bonus of name recognition.
One of my favorite hip-hop personalities, Ice-T, made his first non-rapping film appearance as an undercover cop going up against Wesley Snipes in New Jack City in 1991. A few years later, he showed up in a pair of post-apocalyptic sci-fi flicks, playing the leader of a gang of rebels in Johnny Mnemonic and a kangaroo–human hybrid in Tank Girl. But Ice-T is also a self-professed horror fan, particularly of A Nightmare On Elm Street, which is why it made sense for him to star in Leprechaun in the Hood, tapping into the wacky hijinks of the franchise in by pulling a baseball bat out of his afro or passing a joint to Warwick Davis.
"Music videos allowed rappers to cultivate their personas, and as their video budgets became bigger, the storylines became more intricate and dramatic…"
Having parted ways with NWA, Ice Cube set out to make a name for himself in both the music and film industry. He proved that he had both the dramatic and comedic chops in movies like Boyz N the Hood and Friday and that he had the makings of an action star in Trespass, acting alongside fellow West Coast MC Ice-T. His first venture into horror was in 1997's Anaconda, surviving a deadly snake attack and fist-fighting with Jon Voight. A few years later, Ice Cube was directed by the master of horror John Carpenter in Ghosts of Mars. Ever since, Cube has had a meteoric rise in Hollywood, pumping out various comedies and subsequent sequels.
One of the most recognizable voices in hip hop, Snoop Dogg, has the most impressive resume when it comes to horror. One of his first acting credits was playing a preacher seeking revenge on a street gang in the 1999 low-budget horror Urban Menace (narrated by Ice-T). The film was directed by Albert Pyun, who at the time was cranking out several indie crime thrillers starring rap musicians in the lead roles with titles like Mean Guns, Corrupt and the Wrecking Crew. In 2001, Snoop starred as the titular villain in Bones, about a vengeful spirit back from the dead to murder the corrupt police who murdered him.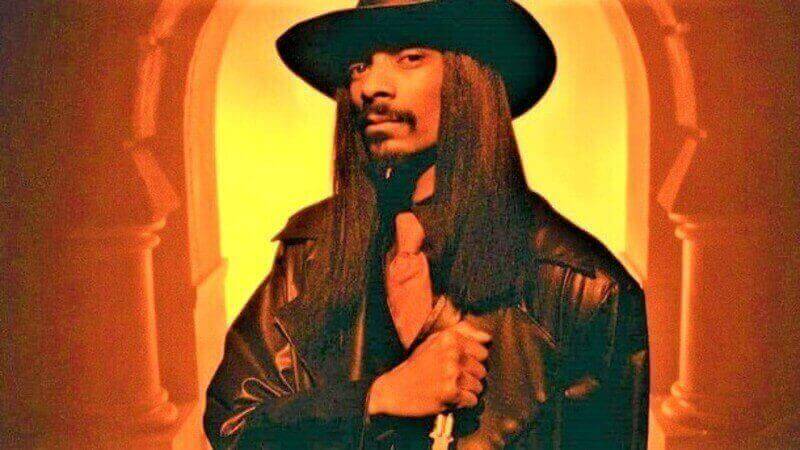 Snoop Dogg's biggest contribution to horror is attaching his name to the anthology Hood of Horrors, where he plays the Hound of Hell, the storyteller or a "Cribkeeper," if you will. And to show how some things come full circle, Snoop provided the voice for Cousin Itt in the new animated Addams Family movies, though it's hard to tell that it's him since all of his lines are reversed. Most recently, Snoop can be seen laying waste to an army of vampires in Netflix's Day Shift alongside Jamie Foxx (who, as an R&B singer, has collaborated with his fair share of rap stars).
Many remember LL Cool J as one of the few survivors from a shark attack in Deep Blue Sea. He even contributed his own wrap-up rap for the end credits, making the questionable creative choice to rap from the perspective of a shark. The year before, he had appeared in Halloween H20: 20 Years Later. Unfortunately, he didn't make it out unscathed, getting shot after being mistaken for The Shape.
However, in the sequel Halloween: Resurrection, Busta Rhymes fared well against Michael Myers, technically becoming the only person to permanently kill Michael, whilst delivering cheesy lines like "Trick or treat, mother fucker!" and "Hey, Mikey! Happy fuckin' Halloween!" I say technically because Michael was supposed to come back yet again in a third installment and kill Busta Rhymes in the first act, but Resurrection performed so poorly that the project was ultimately canned.
It's worth mentioning the kind of exposure the Scary Movie franchise gave rap culture, both as a tribute and a lampoon, due to creators The Wayans Brothers, and their love for hip-hop. The first Scary Movie's soundtrack included tracks from Public Enemy, the Black Eyed Peas, 2Pac and Bad Meets Evil (Eminem and Royce the 5'9"), while the sequel had tracks from Nelly, Cypress Hill and a hilarious rendition of Mystikal's "Shake Ya Ass" in the Exorcist parody cold open.
Scary Movie 3 featured Ja Rule, Queen Latifah and Fat Joe in acting roles, as well as cameos from Master P, Macy Gray and several members of Wu Tang Clan. Scary Movie 4 squeezed in cameos from Chingy, Fabolous and Lil Jon. But the best use of rappers is in Scary Movie 5, with Snoop Dogg and the late Mac Miller playing two stoners doing a comedic back-and-forth about Cabin in the Woods that only horror fans would appreciate.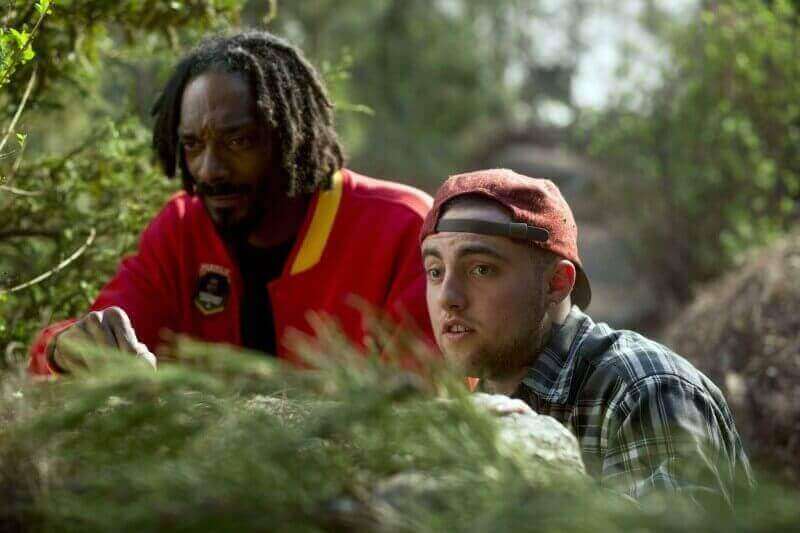 Some other rappers in horror films worth mentioning: Redman got sliced up in Seed of Chucky. Xzibit moonlit as an FBI agent in X-Files: I Want to Believe. Trey Songz fell victim to Leatherface in Texas Chainsaw 3D. Mary J. Blige played a cop haunted by ghosts in Body Cam (and also appeared in the Scream TV series, alongside Tyga). Kid Cudi did porn in Ti West's X. Chance the Rapper turned into a werewolf in Slice. And if you want to get technical, Machine Gun Kelly was still in his rap era when he appeared as the most annoying character in Bird Box.
In the near future, Curtis "50 Cent" Jackson will make his horror film debut in the upcoming Skill House, which pits social media influencers into a deadly competition. The movie is produced by Jackson and is directed by Josh Stohlberg, who wrote Spiral, Jigsaw and Piranha 3D. Earlier this summer, there were reports of a cameraman fainting on set during the filming of a particularly bloody scene. If that's not good press for a horror movie, I don't know what is!
Horrorcore
In turn, horror has had a major influence on rap music as well. Producers have sampled familiar horror film scores like John Carpenter's Halloween, Goblin's Suspiria or "Tubular Bells," better known as the theme in The Exorcist, to color their beats with a dark tone. Elements of horror infiltrated the lyrics, with rhymes about senseless violence, murder and the occult. Some of the first groups to start referencing themes of the macabre were the Geto Boys, Three 6 Mafia and RZA's side project Gravediggaz. The movement spawned its own name, "horrorcore." The most famous example of horrorcore would be Eminem in the early stages of his career, rapping from the viewpoint of his sadistic alter ego Slim Shady, posing in photoshoots with a hockey mask and a chainsaw, though he would later drop the violent criminal act in favor of a more personal touch.
Other horrorcore rappers got very creative with their depictions of death, such as Necro, who is best known for his song "Dead Body Disposal" (he also played a small role in the Safdie Brothers' Good Time). Most of the time, these artists were harmless, most of their lyrics about murder and mayhem are based in fantasy. Sure, some had their brushes with the law, but none were as infamous as Big Lurch, who is currently serving a life sentence for killing and partially eating his roommate during a PCP-induced psychosis. A harrowing tale that has been the subject of a couple true crime documentaries.
"…Elements of horror infiltrated the lyrics, with rhymes about senseless violence, murder and the occult."
Horrorcore became a mockery with the arrival of Insane Clown Posse, who sought to capitalize on a fear of clowns conjured up by It's Pennywise and the part-time clown/real-life serial killer John Wayne Gacy. Their music has appeared in movies like Evil Bong and Heavy Metal 2000, but the face-painted duo have also starred in their own feature-length movies Big Money Hustlas and its Western follow-up Big Money Rustlas. ICP founded their own label Psychopathic Records, representing their progenies Twiztid, yet another horrorcore duo in clown makeup who would later cut ties with the Posse to define their own path. Showcasing their horror fandom, Twiztid's music video for "Sickman" has cameos from horror legends Kane Hodder (Friday the 13th 7, 8, 9 and 10) and Sid Haig (House of 1000 Corpses).
Although horrorcore has gone underground, one rap group that has built a career referencing horror is Clipping., fronted by actor Daveed Diggs (Velvet Buzzsaw), and backed by producers William Hutson and Jonathan Snipes, who have composed the scores for films like Room 237 and Starry Eyes. Their last two albums, There Existed an Addiction to Blood and Visions of Bodies Being Burned, contain songs about Halloween ("Nothing Is Safe"), Candyman ("Say the Name") and Scream ("'96 Neve Campbell"), and their song "Blood of the Fang" samples music from Ganja & Hess. Fangoria recently published an interview with Clipping in their magazine edition, prefaced with an in-depth article on the evolution of horrorcore, so I'm not the first person to make these observations about the links between rap and horror, and I definitely won't be the last.
"As long as there are artists who are fascinated with all things dark, spooky and violent, horror and hip-hop will forever be intertwined."
Rap music continues to top the charts worldwide while still maintaining an underground do-it-yourself community who are constantly innovating the genre. Hip-hop can never be stopped, it will only take on different forms and different names, and therefore will always have a presence in cinema. And as long as there are artists who are fascinated with all things dark, spooky and violent, horror and hip-hop will forever be intertwined.
Those wishing to explore this rabbit hole further can check out the Spotify playlist I made to accompany this article. What's your favorite use of a rap song in a horror film? Tell us on Twitter, Reddit, Facebook, and in the official Nightmare on Film Street Discord.
Not a social media fan? Get more horror delivered straight to your inbox by joining the Neighbourhood Watch Newsletter.