Every year is a good year for horror and 2022 gave us not only killer indie flicks but also some pretty rad multi-million-dollar movies. The David Gordon Green run of Halloween films concluded its controversial run, Jordan Peele gifted us a UFO-tastic blockbuster, and Ti West somehow managed to build a secret yellow brick road of horror movies that no one saw coming. Didn't like any of those movies? No worries. 2022 had *checks notes* approximately 666,000 other horror movies for you to sink your teeth into.
Compiling this list is always way harder than I want it to be. I like movies. Lots of movies. Walt Whitman once wrote "I contain multitudes" in his poem Song of Myself. I can't pretend to know what that really means, but I do know that my horror tastes this year spanned damn near every subcategory the genre has to offer. Dumb fun, Highbrow, Artsy-Fartsy, and Downright Creepy- 2022 had it all!
Below are my personal Top 10 Horror Movies of 2022. And because I hate limiting myself to just a small handle of favorites, head over to my Letterboxd for 50+ honorable mentions lol
10. Missing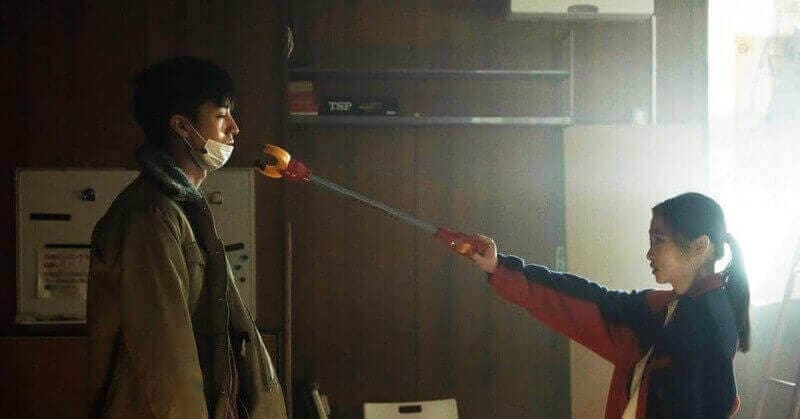 The movie tells the story of a daughter trying to find her father who went missing shortly after explaining that he happened to see a wanted serial killer marked with a 3 million yen bounty.
3 Good Things About Missing:
It's a riddle wrapped in a mystery inside a sad serial killer thriller
A pre-teen girl spits in a nun's face
Sado-Masochistic Serial Killer Erotica (it's not sexy at all but it's shot really, really well)
More good things in Nightmare on Film Street's full review of Missing HERE.
9. The Sadness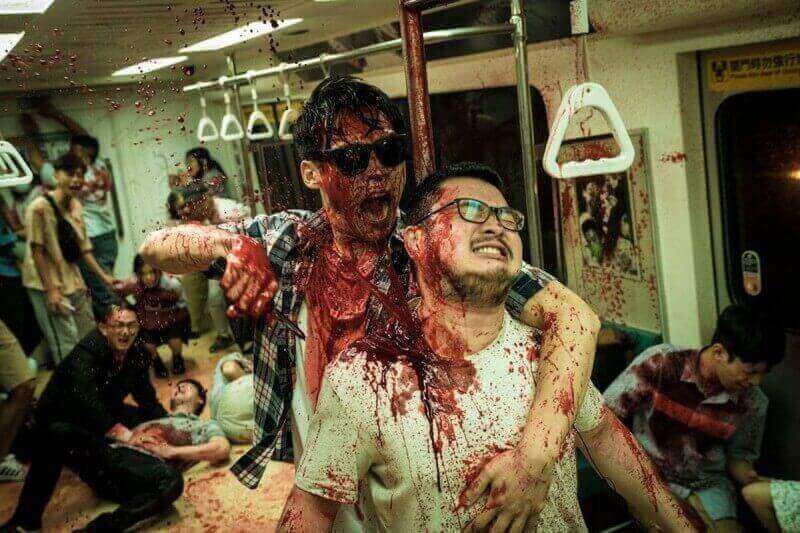 A young couple is pushed to the limits of sanity as they attempt to be reunited amid the chaos of a pandemic outbreak. The streets erupt into violence and depravity, as those infected are driven to enact in the most cruel and ghastly things imaginable.
3 Good Things About The Sadness 
🤘 Practical Effects 🤘
 The villains are pure, infiltered evil
 HOLY SHIT IS THIS MOVIE GORY! I MEAN, DAMN, JUST LOOK AT THE PHOTO UP TOP!!
More good things in Nightmare On Film Street's full review of The Sadness HERE, and in our interview with writer/director Rob Jabbaz HERE
8. Dashcam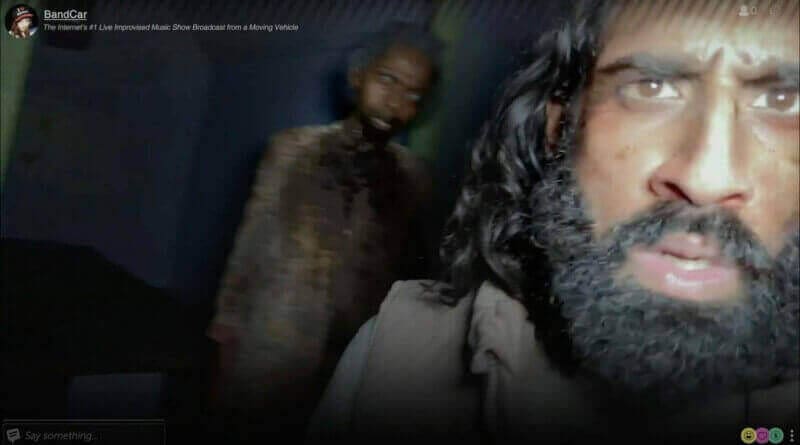 At the start of the pandemic, an indulgent and self-deluded livestreaming improv musician abandons L.A. for London, steals her ex-bandmate's car, and makes the fateful decision to give a ride to an elderly woman who is not what she seems.
3 Good Things About Dashcam
A+ found footage freakiness (including one of the grimmest car crashes ever put on film)
77-minute runtime! You can watch this movie 3 times before most people finish any movie on the Sight & Sound Top 100 Films of All Time
Surprise appearance from all your favorite Host gals 🙂
More good things in Nightmare on Film Street's full review of Dashcam HERE, and in our interview with Jed Shepherd and Gemma Hurley HERE.
7. Watcher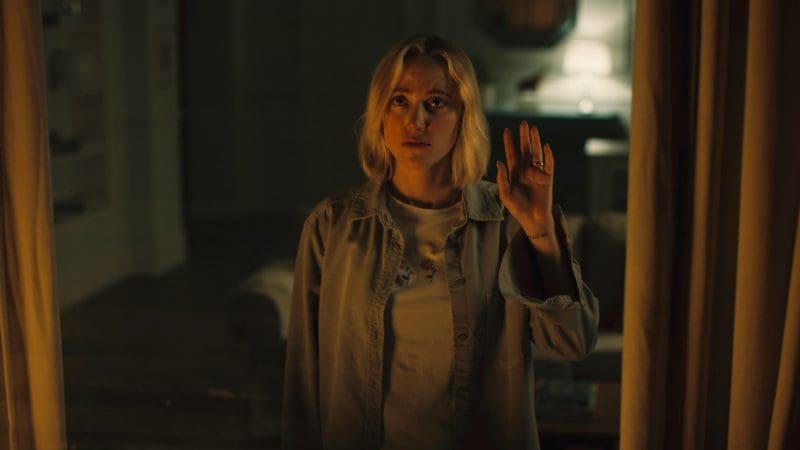 As a serial killer stalks the city, Julia — a young actress who just moved to town with her husband — notices a mysterious stranger watching her from across the street.
3 Good Things About Watcher
Sound design that'll make ya pee your pants
High anxiety vibes that rival a Brian DePalma nightmare sequence
It's the only movie to make a simple plastic bag the most unnerving thing you've ever seen
More good things in Nightmare on Film Street's full review of Watcher HERE
6. Deadstream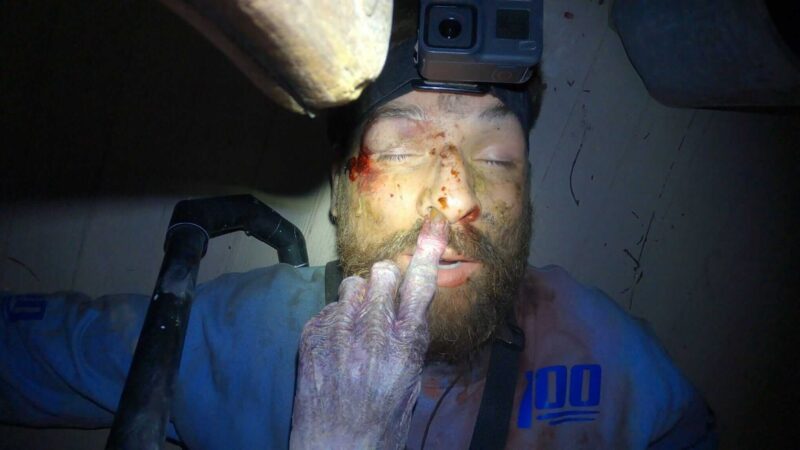 A disgraced internet personality attempts to win back his followers by livestreaming one night alone in a haunted house. But when he accidentally pisses off a vengeful spirit, his big comeback event becomes a real-time fight for his life.
3 Good Things About Deadstream
A ghost picks an unconscious dude's nose with their creepy witch finger
The most ingenious film score ever used in a found footage movie
The movie was shot in a real haunted house!
More good things in our full review of Deadstream HERE, and in our interview with writers/directors Joseph & Vanessa Winter HERE
5. Hellbender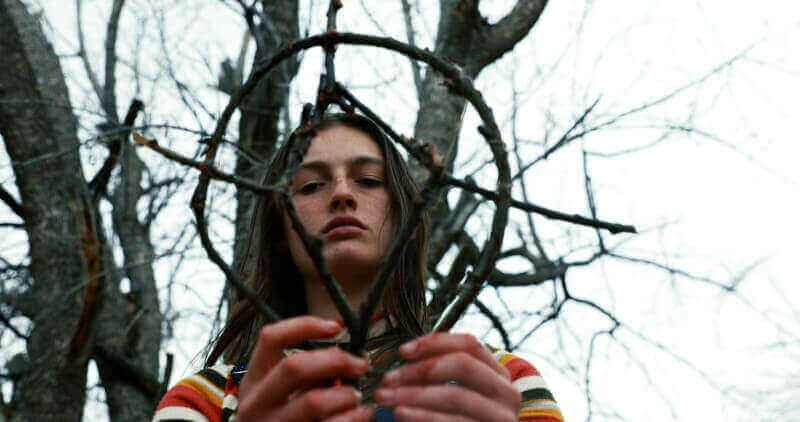 A teen and her mother live simply in a home in the woods, spending their time making metal music. A chance encounter with a fellow teen causes her to uncover a connection between her family and witchcraft, which causes a rift with her mother.
3 Good Things About Hellbender
Witchy demon creatures
A Killer soundtrack of original tracks for you to rock out with your occult out
The title card is stylized as H6LLB6ND6R it's the coolest!
More good things in our full review of Hellbender HERE, and in our interview with The Adams Family HERE
4. Barbarian
In town for a job interview, a young woman arrives at her Airbnb late at night only to find that it has been mistakenly double-booked and a strange man is already staying there. Against her better judgement, she decides to stay the night anyway, but soon discovers that there is much more to be afraid of in the house than the other house guest.
3 Good Things About Barbarian
Hands-down the most unpredictable movie of 2022 (with the best slam-cut to credits of the year)
Someone gets two thumbs through the eyeballs (yuck! but also, yes!)
Justin Long plays a goofy Hollywood slimeball
More good things about Barbarian in our full review HERE, and in our podcast review HERE
3. Mona Lisa And The Blood Moon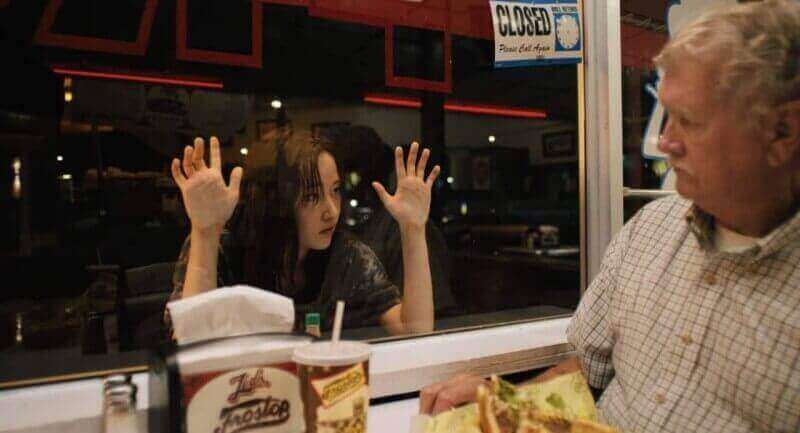 A young woman with psychokinetic powers breaks out of a Louisiana asylum and makes her way to New Orleans, where she falls into the city's netherworld of misfits and miscreants.
3 Good Things About Mona Lisa And The Blood Moon
Kate Hudson is a zero-fucks given NOLA stripper
Craig Robinson just Craig Roinsoning all over this dang movie
To steal a quote from KimmiKillZombie, "it's a hangout vibe with a bit of the old ultraviolence"
More good things in our full review of Mona Lisa And The Blood Moon HERE
2. Out There: Halloween Mega Tape (a.k.a. WNUF 2)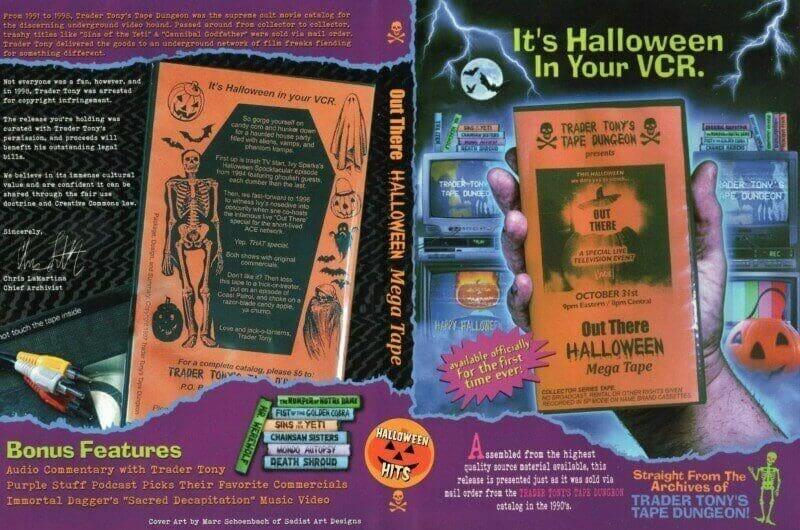 Gorge yourself on candy corn and hunker down for a haunted house party filled with aliens, vamps, and phantom tramps via this hard-to-find flick from an infamous East Coast '90's bootleg video operation. Straight from the archives of Trader Tony's Tape Dungeon, the "Out There Halloween Mega Tape" was assembled from the highest quality source materials available and presented just as it was sold via Trader Tony's mail order catalog in the 1990's.
3 Good Things About Out There: Halloween Mega Tape (WNUF 2)
Utterly ridiculous but still incredibly accurate fake tv ads from the mid-90s
Unsolved Mysteries and Talk Show spoofs
Alien cult insanity 🛸
More good things in our full interview with Out There: Halloween Mega Tape filmmakers Chris & Melissa LaMartina HERE
1. Allegoria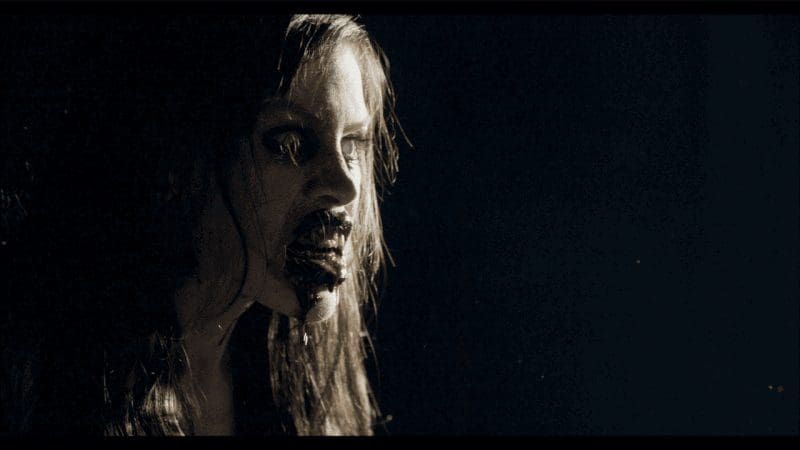 A group of artists' lives becomes unwittingly entangled as their obsessions and insecurities manifest monsters, demons and death.
3 Good Things About Allegoria
Scout Compton goes on a 1st date from Hell
Creepy paint monster + slasher villain that jumps off the page to kill his screenwriter
One of the segments features a fake Video Nasty that I desperately wish was a real movie
More good things in our full review of Allegoria HERE and in our interview with filmmakers Krsy Fox & Spider One HERE
And that's a wrap on my favorite horror movies of 2022! Feel free to check out my Letterboxd for 50+ honorable mentions and pleasepleaseplease share your favorites of the year with us over on Twitter, Reddit, Facebook, and in the official Nightmare on Film Street Discord. You can also hear us chat about all the movies above plus KimmiKillZombie's Top 10 of 2022 on the Nightmare on Film Street Podcast HERE.
Not a social media fan? Get more horror delivered straight to your inbox by joining the Neighbourhood Watch Newsletter.