Every year is a good year for horror. That used to just be a nice thing to say but even 2020 managed to deliver the scares despite *motions toward everything*. The release schedule was looking pretty grim earier this year but I'll be damned if it wasn't one of the hardest lists I've ever had to put together. Theatres might have been closed, production might have ground to a halt, but VOD and Streaming Platforms rose to the challenge and gave us a year jam-packed with new horror favourites.
We've changed things up a bit this year with our annual reeommnedation list. Previously, festival finds were mixed in with theatrical and digital releases to give you a comprehensive list of recommendations that you could enjoy right away, as well as a handful of films to look out for in the coming months. This year, Nightmare on Film Street co-creator KimmiKillZombie and I made a hard division between those categories with our Top 5 Films Released in 2020 (ranked) as well as 5 Honorable Mentions, including Film Festival Favourities.
As always, we'll also be discussing these picks on the Nightmare on Film Street podcast which, in my opinion, is much more fun to listen to than reading through my bland writing. On the plus side, I've included trailers for each movie (when available) listed below and availability info, so I guess it's not all bad. And don't forget to check out KimmiKillZombie's Year-End Recommendations for even more horror!
Top 5 Films Released in 2020
5. The Wolf of Snow Hollow
Directed by Jim Cummings
Available on VOD
The Wolf of Snow Hollow is a pitch-black comedy that blends together werewolf cinema and true crime. It's one of the funniest movies I've seen all year and it also happens to feature a seven foot tall, razor-shard clawed werewolf! it also features a full slate of top-notch performances from Jim Cummings (Thunder Road), Riki Lindhome (Last House on The Left, 2009), and Robert Forster (Jackie Brown) in his final feature role. If you've always wanted to see what Silence of The Lambs would look like with a struggling sheriff and werewolf instead of an FBI trainee and Buffalo Bill, The Wolf of Snow Hollow is the movie for you.
Read Nightmare on Film Street's full review of The Wolf of Snow Hollow HERE and Grant DeArmitt's interview with writer/director Jim Cummings HERE.
4. Sputnik
Directed by Egor Abramenko
Available on VOD and Hulu
Sputnik is a cold-war era sci-fi horror set behind the iron curtain of Russia's space program and it features one hell of an alien monster! We all love the face-hugger from Alien, the chest-burster from Alien, and the fully-formed Xenomorph from Alien….but what if that monstrous, man-eating creature didn't have to kill poor Kane in order to live. What if it just continued to live inside it's host like a tiny little Manhattan shoebox, crawling out each night to party (and eat brains)? Sputnik is an absolute must-see for space race nerds and pure nightmare fuel for space horror fans.
Read Nightmare on Film Street's full review of Sputnik HERE, and listen to our interview with director Egor Abramenko on the NOFS Podcast HERE.
Ads are Scary
Nightmare on Film Street is independently owned and operated. We rely on your donations to cover our operating expenses and to compensate our team of Contributors from across the Globe!
If you enjoy Nightmare on Film Street, consider Buying us a coffee!
3. Relic
I'm gonna cut the crap and just come out 'n' say that this movie destroyed me. It made me feel uneasy, it made me scared to grow old, and it made cry like a baby at the thought of watching my parents slowly slip away. Not only does it feature some of the year's most haunting visuals but it really, really hits you where it hurts. Relic is truly one of the most impressive of the year but it's definitely the kind of horror movie you'll want to watch alone, with the curtains closed, and a box of tissues close by.
Read Nightmare on Film Street's full review of Relic HERE, and listen to our interview with director Natalie Erika James on the NOFS Podcast HERE.
2. Host
Directed by Rob Savage
Available on VOD and Shudder
Found-Footage gets short-shrift by a lot of moviegoers but that all changed this year when the world crowded around their laptops to watch a group of friends conduct a virtual seance over Zoom. Zoom has come to define how many of us will remember work-life in 2020 and Host wasted no time mining the depths of this "new normal" for some of the most effective, and imaginative scares of the year. I tell anyone that will listen, but I'm not kidding when I say that Host belongs on the Mount Rushmore of found-footage movies next to The Blair Witch Project and Paranormal Activity.
Read Nightmare on Film Street's full review of Host HERE, and listen to our interview with director Rob Savage and writers Jed Shepherd, and Gemma Hurley on the NOFS Podcast HERE.
1. Possessor
Directed by Brandon Cronenberg
Available on VOD and OnDemand
Brandon Cronenberg's Possessor is a pure mindfu*k of a movie. It's got stomach-turning practical effects, corporate assassinations that involve "possession technology", and literal mind-melting all wrapped up in an unrelenting existential crisis. Delivering some of the most inventive sequences of the year (sorry, Tenet), Possessor is a visceral, soul-shattering experience that will linger in the recesses of your mind. If Antiviral was Cronenberg's foray into body horror than Possessor is his body destruction film, tearing apart everything that it means to be human from the inside-out.
Read Nightmare on Film Street's full review of Possessor HERE, and listen to our interview with director Brandon Cronenberg on the NOFS Podcast HERE.
Festival Favourites / Honorable Mentions of 2020
Fried Barry
Oh boy- where do I start when describing the warped world of Fried Barry…Well, the TLDR is that a heroin addict is abducted by an alien before embarking on a wild weekend through the nightlife of Cape Town stumbling into sex workers, club kids, and institutionalized maniacs. None of that even comes close to describing the insanity of this certified Midnight Madness extravaganza but trust me when I say that Fried Barry is everything you're looking for (and more!) in an underground indie film.
Read Nightmare on Film Street's full review of Fried Barry HERE and our interview with director Ryan Kruger HERE.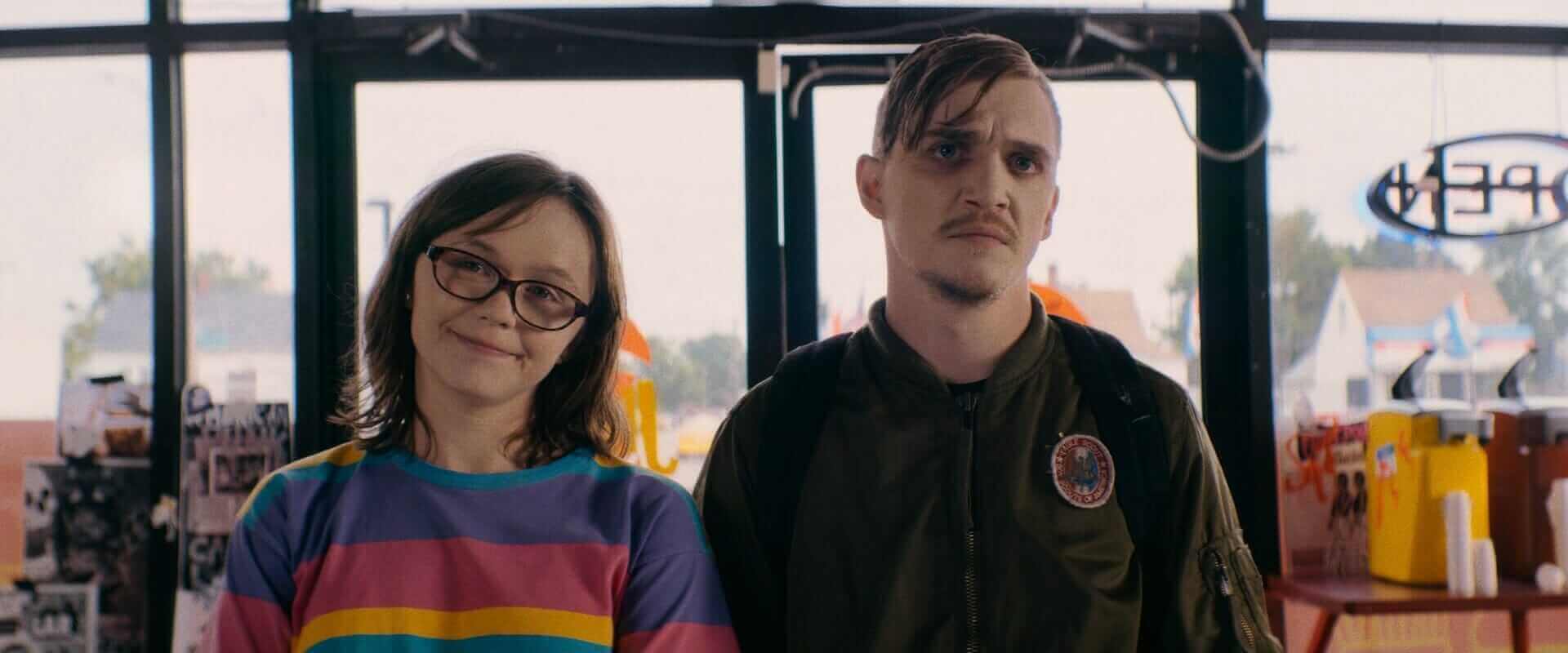 Dinner in America
Disclaimer: This is very much not a horror movie, but it is very much a kickass punk rock love story with the earwormiest earworm I've ever heard and maybe the greatest finale line of a film all year. This is a movie for every outcast out there tired of dealing with everyone else's bullshit day-in, day-out. You don't have to be a punk to enjoy this cartoonish depiction of Middle America, but it will really help scratch that "I'm going to flip this f*cking dinner table is more person in this family says another goddamn word about my hair" itch. Now that we're knee-deep in a contentious holiday season, I'm sure you'll relate
Read Nightmare on Film Street's full review of Dinner in America HERE
Survival Skills
Directed by Quinn Armstrong
Available on VOD and OnDemand
The subject of an instructional video cassette becomes aware of his own existence in Quinn Armstrong's debut feature Survival Skills. It's a delightfully dark oddity that plays like ASMR for VHS collectors and audiovisual club nerds. If you've ever sat threw an employee training video from 1985, for a job you applied to in 2011, this is a movie that is going to hit home for you. Survival Skills is a reality-defying black-comedy and an incredibly creative exploration into the grim realization that life is never as cut-and-dry as it might seem. It's one of the most mind-boggling, but still easily-digestible, pieces of cinema in recent memory, like David Lynch by way of Charlie Kaufman.
Read Nightmare on Film Street's full review of Survival Skills HERE and our interview with director Quinn Armstrong HERE.
Enjoying This Post?
Nightmare on Film Street is an independent outlet. All of our articles are FREE to read and enjoy, without limits. If you're enjoying this article, consider Buying us a coffee!
Frank & Zed
Ya'll wanna see a felt Frankstein Creature and Zombie tear out the gooey, gory brains of some other puppets?? If you're anything like me, the promise of a practical-effects driven, puppet gorefest is all the convincing you need to enjoy a movie like Frank & Zed. What might surprise you though, and what completely took me by surprise, is that heart that this movie has for its monsterific leads. Frank & Zed is the perfect movie for anyone who complains that happy endings are boring because they don't have enough entrails.
Read Nightmare on Film Street's full review of Frank & Zed HERE and our interview with director Jesse Blanchard HERE.
The Undertaker's Home (La Funeraria)
Directed by Mauro Iván Ojeda
Official Selection of the 2020 Fantasia Film Festival
I don't know why there haven't been more haunted house stories set in funeral homes but that doesn't matter anymore because we have Mauro Iván Ojeda's The Undertaker's Home (La Funeraria). This movie is filled with fun & freaky interpretations of ghosts, ghostly activity, and a super haunting atmosphere. And I'd be lying if I didn't also admit that this had one of the most heartfelt and emotional finales of the year + a super scary sequence involving a porta-potty, so look out for that!
Read Nightmare on Film Street's full review of The Undertaker's Home HERE.
But that's just the tip of the iceberg! There were so many great horror films released this year that I could easily put together another Top 10 list of movies you gotta check out. For more must-see horror, be sure to check out KimmiKillZombie's year list HERE and this week's episode of the Nightmare on Film Street Podcast. What were your favourite horror movies of 2020? Share your picks with us over on Twitter, Reddit, Facebook, and in the official Nightmare on Film Street Discord. Not a social media fan? Get more horror delivered straight to your inbox by joining the Neighbourhood Watch Newsletter.